CISAC and Korea societies seek stronger copyright regime to nurture the 'Bong Joon-Hos' of the future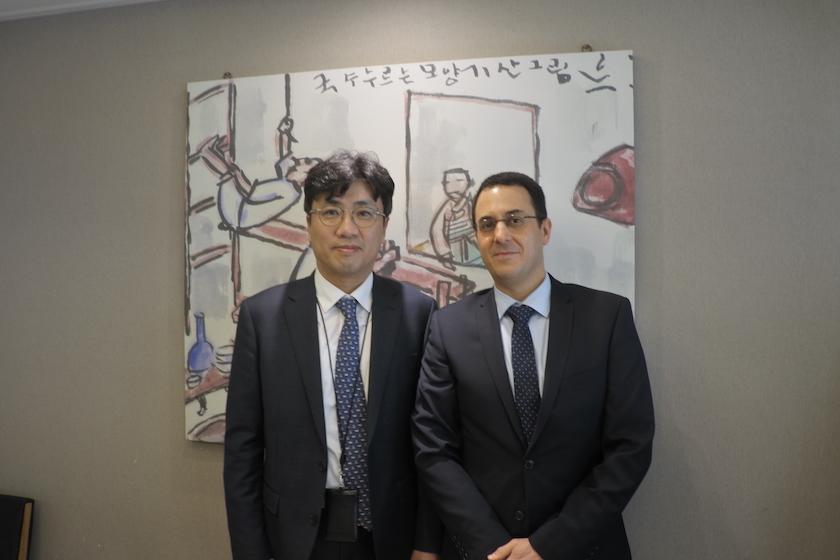 CISAC Director General Gadi Oron and Director General, Copyright Bureau Korean Ministry of Culture, Sports and Tourism, Kim Jae-Hyun. Photo ©: CISAC
Korea has been a world leader in promoting copyright and creative industries, exemplified by the Oscar-winning success of "Parasite" and its director Bong Joon-ho. Korea can now use that leadership to help protect the next generation and create a fair environment for more Bong Joon-hos of the future.
This was the message from CISAC Director-General Gadi Oron in meetings this week with member music society KOMCA, the Directors Guild of Korea (DGK) and government officials in Seoul.
In a keynote speech at the KOMCA General Assembly on 18th February, Oron pointed to the key role the music society has played in the success of the Korean music sector. CISAC data shows that royalty collections for creators have more than doubled in the last five years, making Korea one of the top 20 music market with the highest proportion of digital collections, at 33%.
Repeating the message in interviews with the Korean daily newspaper Hankook Ilbo and TV Channel Arirang, Oron called on the government to support the campaign for fair remuneration rights for screenwriters and directors, in which CISAC is collaborating with DGK. CISAC is supporting the creation of a new AV society in the country.
Interview in Korean daily newspaper Hankook Ilbo
"Audiovisual creators should come together to ask the government and the National Assembly to revise the law and create a copyright-related organisation. There are many cases where royalties are not paid because there is no law protecting audiovisual creators, " he said in the interview.
Areas for stronger copyright measures were discussed in a meeting with the Ministry of Culture, Sports and Tourism, Republic of Korea; notably, the newly appointed DG of the Copyright Bureau, Kim Jae-Hyun.