Artificial Intelligence (AI) technologies have a transformative effect on society and important implications for intellectual property (IP) law. Its impact on creation is no longer abstract, with creative works already being generated by AI.
CISAC and its members are discussing with policy makers the impact of AI on Authors' rights and Copyright - and the potential need for legislative and regulatory action.
CISAC has set up a dedicated working-group on AI in order to help define positions and contribute to the different ongoing discussions at international and regional levels. The group submitted a contribution to the World Intellectual Property Organisation (WIPO) in 2020, as part of its consultation on Artificial Intelligence and Intellectual Property Policy.
CISAC will continue to engage in these discussions to help policymakers find the best way forward to address AI related issues and monitor initiatives in the United States and in Europe.
This page highlights CISAC's AI campaigns.
Open Letter to policy makers on Artificial Intelligence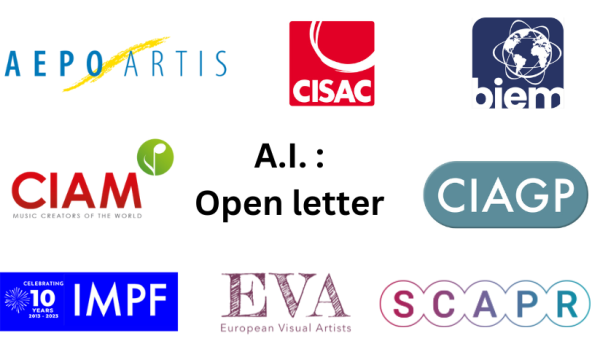 CISAC Comments on the US Copyright Office's Notice of Inquiry (NOI) on Copyright and Artificial
"Copyright exceptions do not exist to undermine the overall functioning of the copyright system and the interests of rightsholders, but to restore the equilibrium between the interests of rightsholders and the interests of the public. Taking this principle into account, even in the context of open norm systems such as fair use, rights may not be stripped from rightsholders simply for the sake of innovation. AI can provide many opportunities for improving society, but such benefits should not be won at the price of human creativity".
This is the concluding paragraph of CISAC's comments on the US Copyright Office's Notice of Inquiry on Artificial Intelligence, available here. CISAC made its submission on behalf of its global membership on 31st October, responding to the Copyright Office request for comment on copyright law and policy issues raised by artificial intelligence (''AI'') systems.
RELEVANT ARTICLES
_____________________
CISAC VP Ángeles González-Sinde calls for ethical rules on AI use in the film industry - 19 Oct 2023
CISAC Vice-President Ángeles González-Sinde passionately championed the responsible and ethical use of AI in the audiovisual sector during a UNESCO "Film Sector on the Frontlines" roundtable which discussed the profound impact of generative artificial intelligence (AI) on the filmmaking industry. READ MORE
CISAC members are working to licence and monetise AI, CISAC DG tells panel - 12 Oct 2023
CISAC member societies are working full out to get the best protection and remuneration for creators in the world of AI. This was one message from CISAC DG Gadi Oron at a panel at the MaMa Convention in Paris on 12th October. The key priorities that are needed from policy makers are the obligation for transparency of AI operators, consent of the rightholder for the use of their works, and avoiding exceptions that limit the ability to license. READ MORE
Remuneration, authorisation, transparency: CISAC outlines priorities for creators in the AI age at IMPF's creative summit - 9-10 Oct 2023
CISAC is using its global voice to join calls from music publishers, songwriters and other rights holders for creators' rights to be at the centre of policy making on artificial intelligence (AI). The Confederation joined the 2023 Global Music Entrepreneurial and Creative Industry Summit in Palma, Spain on October 9th and 10th. CISAC Director of Legal and Policy Constance Herreman Follain spoke on the panel "The Talk of the Town – AI, Web 4, Metaverses". The discussion focused on how new technologies and artificial intelligence are creating new opportunities for music rightsholders, but also causing concerns within the copyright ecosystem. What does this mean for the future creation of music? How can human and AI creation co-exist? READ MORE
CISAC President and DG meet Greek Prime Minister on AI and creators' rights - 10 Oct 2023
CISAC continues to engage policy makers at the very highest level to bring home the urgency of protecting creators in the looming age of Artificial Intelligence. CISAC President Björn Ulvaeus and Director General Gadi Oron met with the Greek Prime Minister Kyriakos Mitsotakis on 10th October to discuss the measures legislators need to take to address the rapid expansion of AI and its impact on music and audiovisual creators. READ MORE
CISAC President, Björn Ulvaeus, speaks on AI during his welcome speech at the 2023 CISAC General Assembly held in Mexico
CISAC President Björn Ulvaeus joins CISAC Board members and creators to debate the future of creativity and AI at the 2023 CISAC General Assembly held in Mexico