CISAC and ARIPO join forces to Champion Creators' Rights and economic growth in Africa
Summary
Royalty collections in Africa total US$68.6 million annually with potential for sharp growth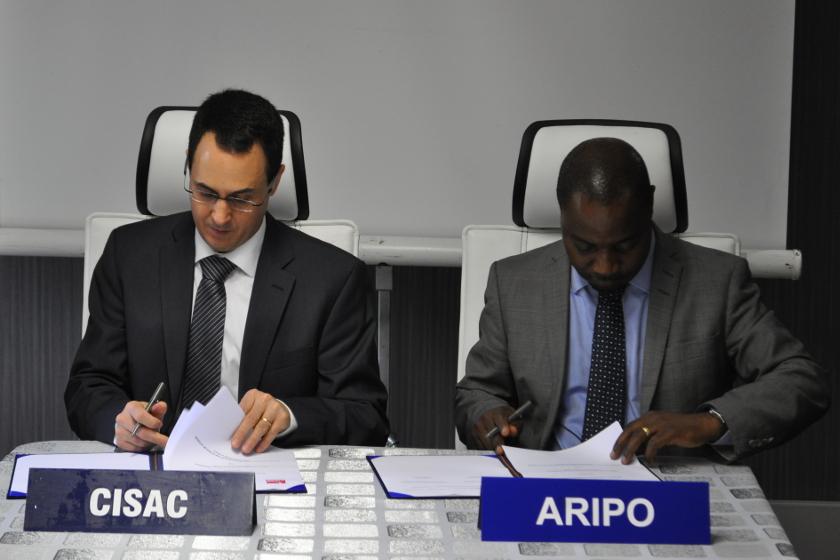 L-R: CISAC Director General Gadi Oron and ARIPO Director General Fernando dos Santos. 
Photo ©: ARIPO
On 14 February, a landmark Memorandum of Understanding (MoU) between CISAC and the African Regional Intellectual Property Organization (ARIPO) was signed in Harare, Zimbabwe at the new offices of ARIPO. The MoU lays the groundwork for increased collaboration in reinforcing copyright, sharing technical knowledge, educating and training societies in collecting royalties on behalf of creators. 
The agreement sets into motion new efforts to assist societies and organisations in Africa to increase their capacities in effectively receiving and distributing collections to creators. The MoU will foster and support the creative and cultural industries as well as economic growth in ARIPO member states.
The official press release can be read below or downloaded here.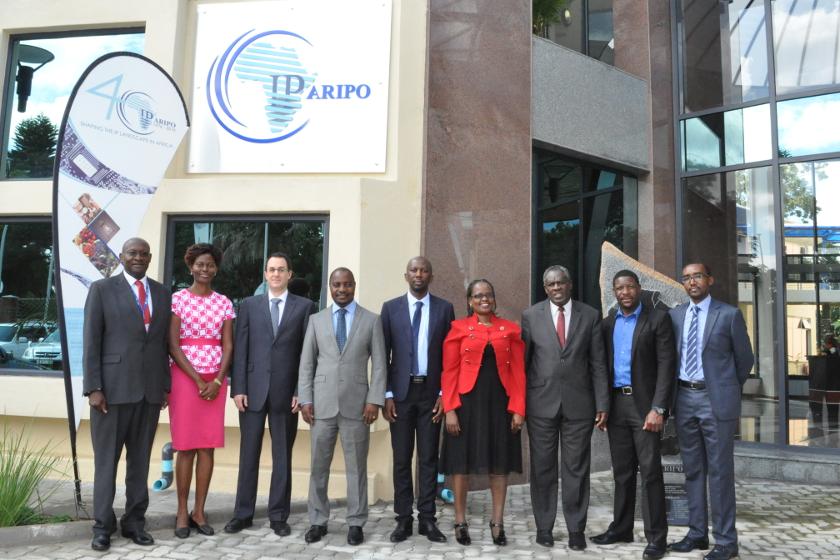 L-R: ARIPO Director of Intellectual Property Christopher Kiige, ARIPO Head of Copyright & Related Rights Department Maureen Fondo, CISAC Director General Gadi Oron, ARIPO Director General Fernando dos Santos, CISAC Regional Director for Africa Samuel Sangwa, Zimbabwe Music Association Executive Director Plosile Ncube, ARIPO Intellectual Property Development Executive Emmanuel Sackey, ZIMURA Head of Licensing Henry Makombe, ARIPO Head of Policy, Legal & International Cooperation Department Pierre Claver Runiga.
Photo ©: ARIPO
---
Harare, 14th, February, 2017 – CISAC and ARIPO, organisations championing creators and intellectual property rights globally and in Africa, are stepping up cooperation to help boost the growth of the creative sector in the region.
CISAC, the International Confederation of Societies of Authors and Composers, has today signed an agreement to partner with ARIPO, the African Regional Intellectual Property Organization. A Memorandum of Understanding signed by the two bodies today in Harare, Zimbabwe, paves the way for joint projects on strengthening copyright, technical exchange, education and training of organisations collecting revenues for creators.
The African region has enormous growth potential in the creative sector. Royalty collections for creators in the region, by CISAC member societies and across multiple repertoires, grew 14.9% in 2015 to US$68.6 million, according to CISAC's 2016 Global Collections Report. However, this represents less than 1% of global collections totalling US$9.5 billion.
Creative and cultural industries have the potential to be a major engine of economic growth in Africa. According to an economic study commissioned by CISAC and prepared by EY in 2015, Africa's creative and cultural industries are worth US$58 billion, employing 2.4 million people.  With relatively low levels of Internet penetration and challenging conditions for the rights of creators in some countries, there is huge potential for further growth.
Signing the agreement at a ceremony in Harare at the ARIPO Headquarters today, CISAC Director General Gadi Oron said:
In today's economy, creators and creative industries are a huge driver of growth and jobs, and this is only going to escalate in the future. African governments, like their counterparts globally, are realising that to nurture this potential, more actions are needed to promote and protect creators' rights. We look forward to a close collaboration with ARIPO, including opportunities for research that can demonstrate the huge economic benefits of creative industries in Africa. Today's agreement is a positive forward step, bringing together two hubs of international expertise to work on improving the environment for the creative sector".
ARIPO Director General Mr. Fernando dos Santos said
Africa has it all in creativity but there is a need to develop and implement strategies to promote and support the growth of creative industries. More studies on the creative industries' contribution to the national economy have to be undertaken to assist policy makers to make informed decisions on copyright matters. Within ARIPO Member States only Malawi, Kenya and Tanzania have had such a study done with the support of WIPO and findings showed that creative industries contribute 3%-5% GDP of national economy. This should act as a catalyst for the African governments to continue supporting and promoting the creative industries".
CISAC oversees a global network of 239 member societies in 123 countries. These include 36 members in 31 African countries.  These organisations collect and distribute revenues and promote the interests of creators across five repertoire groups: music, audio-visual, drama, literature and visual arts.
ARIPO is an Intergovernmental Organization established to promote the use of Intellectual Property for the development in its Member States. Membership of the Organization is open to all states members of the African Union (AU) or of the United Nations Economic Commission for Africa (UNECA). Currently ARIPO counts 19 Member States from the East, South and Western Africa and looks forward to other African countries to be its Member States.