JASRAC and CISAC highlight European Union leadership in Copyright Directive press conference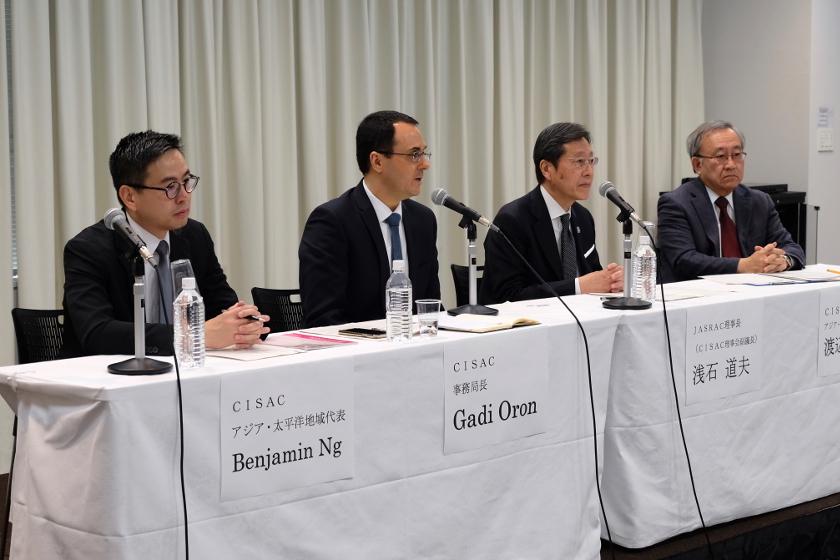 CISAC Regional Director Benjamin Ng, CISAC Director General Gadi Oron, JASRAC President Michio Asaishi and CISAC Asia-Pacific Committee Chairperson Satoshi Watanabe discuss the Copyright Directive's effects in Japan. 
Photo ©: JASRAC
JASRAC and CISAC held a joint press conference on April 2nd in Tokyo, Japan for local media to explain the Directive on Copyright in the Digital Single Market. Adopted recently by the European Union, the Copyright Directive is a milestone in updating legislation to today's digital era.
CISAC Director General Gadi Oron, Regional Director Benjamin Ng, Asia-Pacific Committee Chairperson Satoshi Watanabe and JASRAC President Michio Asaishi explained the directive as well as its importance to local media. Europe is leading governments worldwide in aligning legislation to better support authors and creative industries by laying foundations for a fairer digital environment. This established a precedent that many countries have been watching closely for some time. 
The press conference clarified the Directive's impact on user-uploaded content platforms, how it creates a level playing field for all digital services, provides provisions on transparency as well as reporting on the use of works. It also allowed journalists to learn about how there is an exception for small businesses, allowing them to grow while respectfully using licensed creative content. 
The adopted Directive provides a balanced approach along with mitigation measures. If work is not used correctly, it provides the ability to revoke contracts with publishers and record labels. Finally, it contains a contract adjustment if remuneration is disproportionately low. It is expected to generate significant incomes from user-uploaded content platforms for creators.
Given the interest expressed by governments around the world during CISAC meetings and events, CISAC and the collective management community are hopeful that others will follow Europe's leadership in bringing improvements to authors' rights in the years to come.