Expanding horizons for creator remuneration at CISAC General Assembly in Tokyo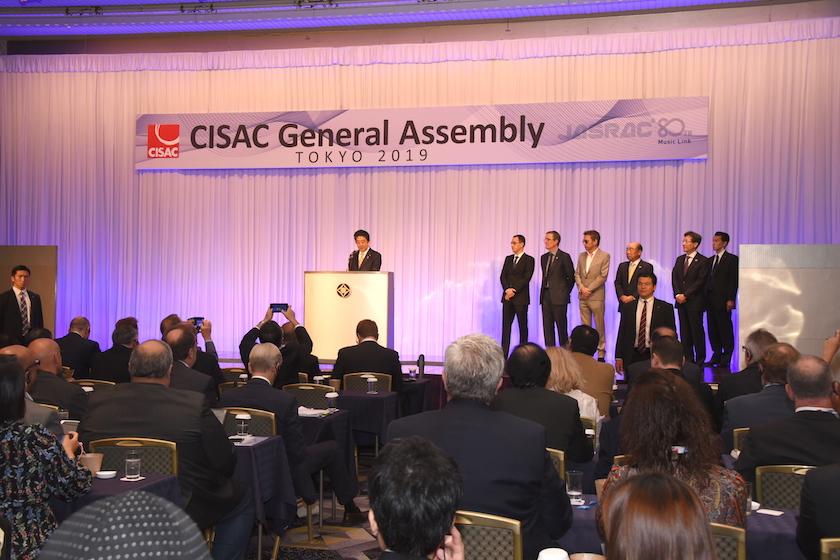 Japanese Prime Minister Abe Shinzo opens the 2019 CISAC General Assembly in Tokyo.
Photo ©: JASRAC
Global lobbying, improving technologies and operations leadership drew creators, executives and government officials to the 2019 CISAC General Assembly in Tokyo. Hosted by JASRAC, which is celebrating its 80th anniversary, the annual meeting of collective management organisations marks the first assembly of the Confederation following passage of the Directive on Copyright in the Digital Single Market in the European Union. The landmark legislation has since spurred a flurry of interest across governments seeking to address, among other issues, transfer of value.
Recognising the importance of over 100 authors' societies uniting in the land of the rising sun, Japanese Prime Minister Abe Shinzo opened the General Assembly by acknowledging the vital importance of creators in Japan and around the world, "…creators are called on always to anticipate changes in the tides of new ages and to expand increasingly creative and diverse activities. We will continue to have great expectations for the role of CISAC, a base supporting the inventive activities of creators around the world."
See the photo gallery.
The day before, Japan's Minister of Education, Culture, Sports, Science and Technology Masahiko Shibayama also welcomed the global gathering by stating, "CISAC has greatly contributed to the development of culture by promoting the protection of copyright works throughout the world". The Minister was followed by CISAC President Jean-Michel Jarre, who detailed his activities in the past six years as President leading up to the victory in Europe for the Copyright Directive. He said that "it points to a new, fairer relationship between creators and the giant platforms that use their works. It lays down new principles that help screenwriters and directors in their campaign for fair remuneration. Europe's new legislation is not only a legal template for other countries, but it is a beacon and inspiration for policy makers worldwide." He also underscored, "The ultimate way to harm freedom of expression is to not give the means to live from our work."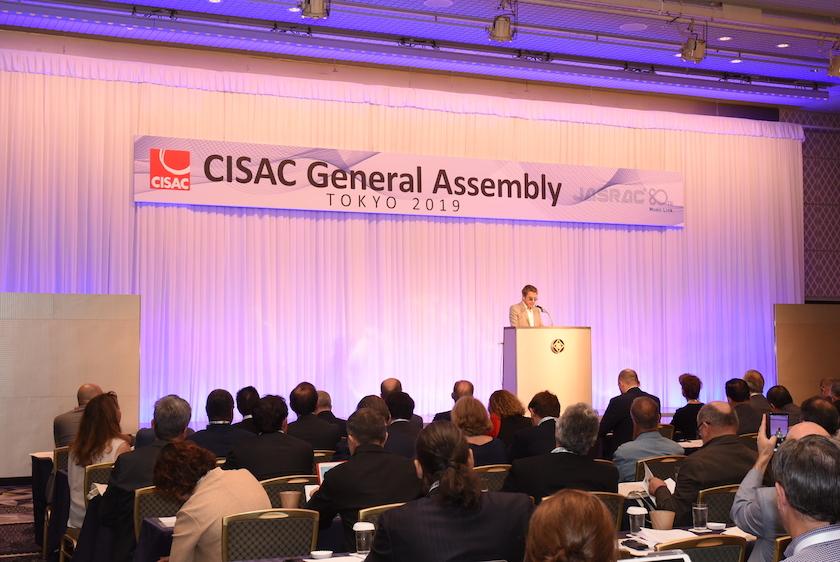 CISAC President Jean-Michel Jarre addresses the General Assembly, pointing out how he has carried "our flag as high as possible around the planet to make everyone understand that we are, as authors, creators and publishers, the fuel of the digital world".
Photo ©: JASRAC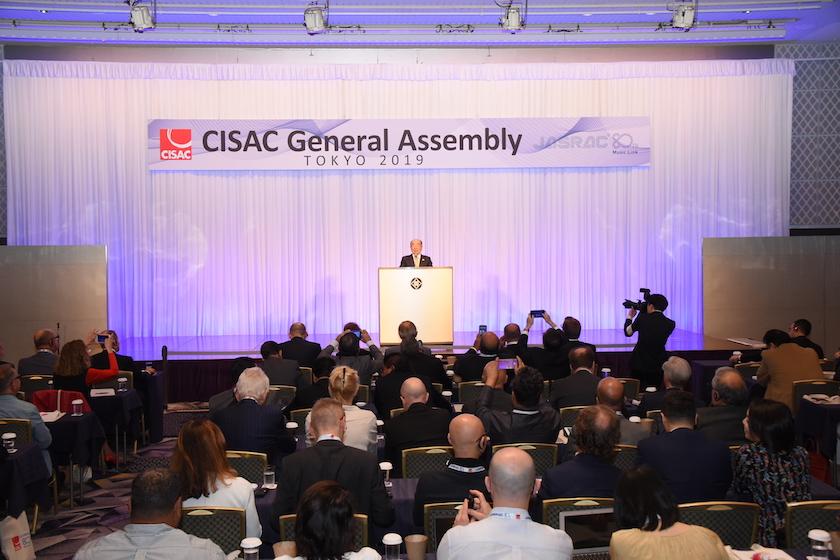 JASRAC Chairman Ide Haku speaks to the 2019 CISAC General Assembly in Tokyo.
Photo ©: JASRAC
Following a welcome address by the JASRAC Chairman Ide Haku, CISAC Board Chair Eric Baptiste wished JASRAC a happy 80th anniversary, noting their remarkable ability to adapt to changing times. The society has always been a leader in Asia-Pacific, helping strengthen the network of CMOs. Baptiste also reviewed CISAC's accomplishments during his two terms as Board Chair, including increasing the Confederation's stature, improving the Secretariat, boosting efficiencies as well as providing support as requested.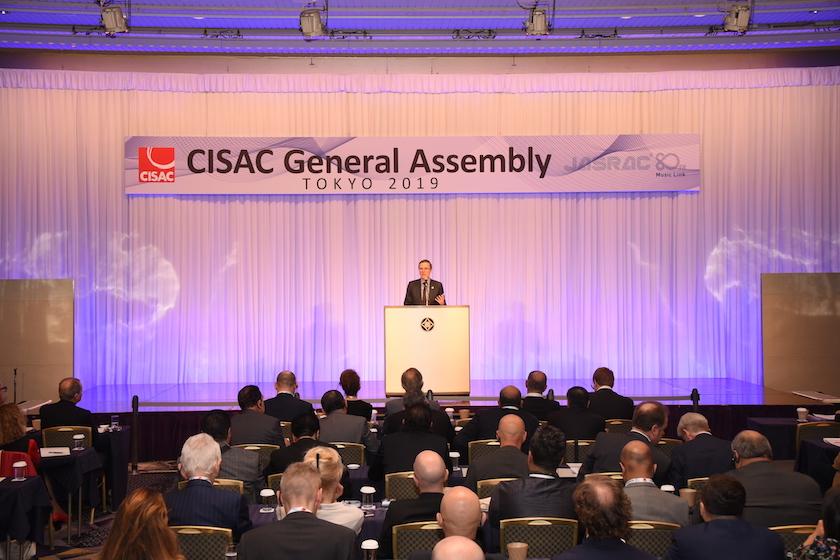 CISAC Board Chair Eric Baptiste delivers an opening address to the CISAC General Assembly.
Photo ©: JASRAC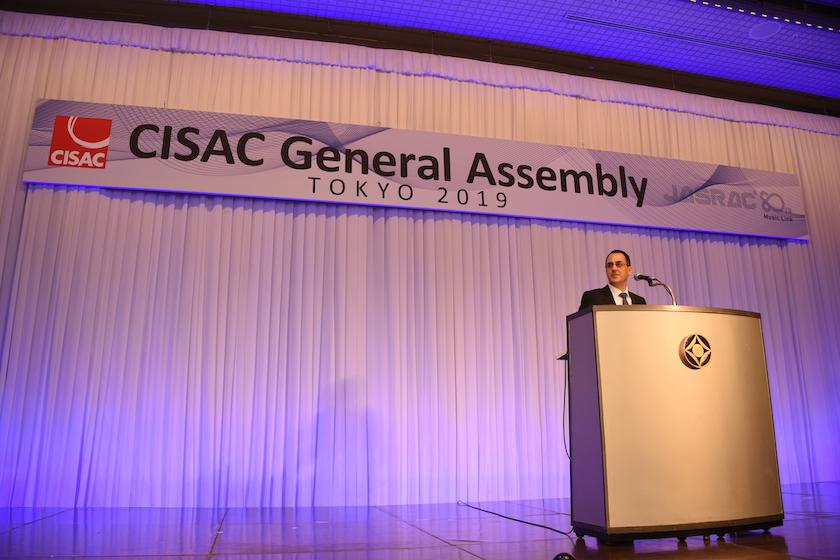 CISAC Director General Gadi Oron draws a comparison between CISAC and a Japanese proverb of "the bamboo that bends is stronger than the oak that resists" at the General Assembly while talking about adapting to change.
Photo ©: JASRAC
CISAC Director General Gadi Oron iterated the evolution of CISAC in anticipating and adapting to changes in his speech by noting, "We have adjusted, adapted and transformed…but at the same time, maintaining our core values and the core values of collective management". Oron also concluded by thanking Eric Baptiste for his guidance and assistance to CISAC, which has helped the Confederation become "an active, influential and highly respected organisation". 
In light of developments in Europe politically and in regard to copyright, SACEM CEO Jean-Noël Tronc was invited to speak about rethinking Europe with culture as a starting point. Detailed in a recently released book, it explores how digital sovereignty and the development of cultural industries can work together to build a free and strong Europe. This is particularly important in an age of growing instability, where culture can help European citizens reaffirm their independence and identity.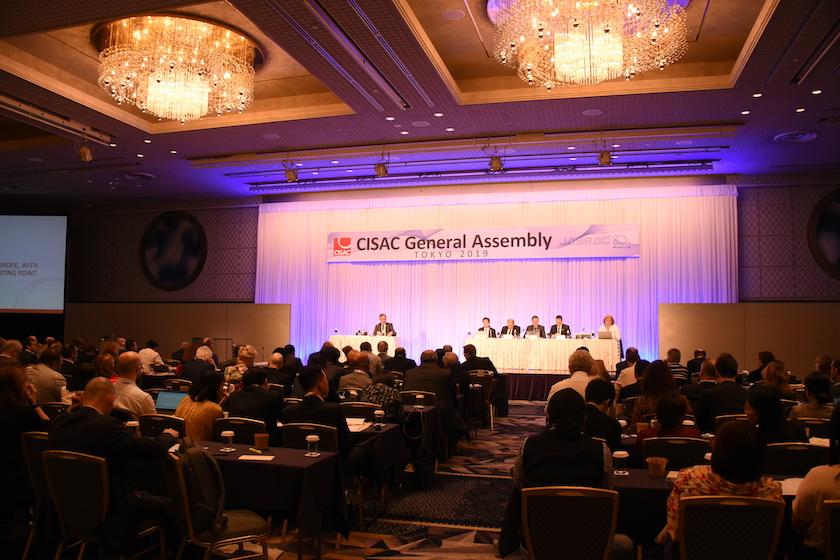 The annual assembly gathers collective management organisations from all regions of the world and all repertoires once a year to review activities and plan strategies moving forward.
Photo ©: JASRAC
Efforts to expand Europe's solution to transfer of value elsewhere in the world and other policy campaigns were detailed during the assembly. Societies and creators also learned about technology provider FastTrack's integration into CISAC as well as the update to international musical works identifier ISWC, which will improve the ability of societies to handle increasing data demands.
Women@CISAC held a panel discussion on efforts to bring gender equality to collective management. Women@CISAC seeks to conduct research, raise awareness and share best practices to support CISAC members in advancing equality and inclusion. In Tokyo, the panel included Dr Felicity Wilcox of the Australian Guild of Screen Composers, Mami Saito of JASRAC and Fabiana Nascimento of AUTVIS. Progress has been positive, particularly in Latin America, although men need to be involved in improving gender equality so that it reflects the 50-50 population today. Since 2018, a steering committee was created and a survey sent to members. The survey results will assist in knowing where the sector is and how to move forward.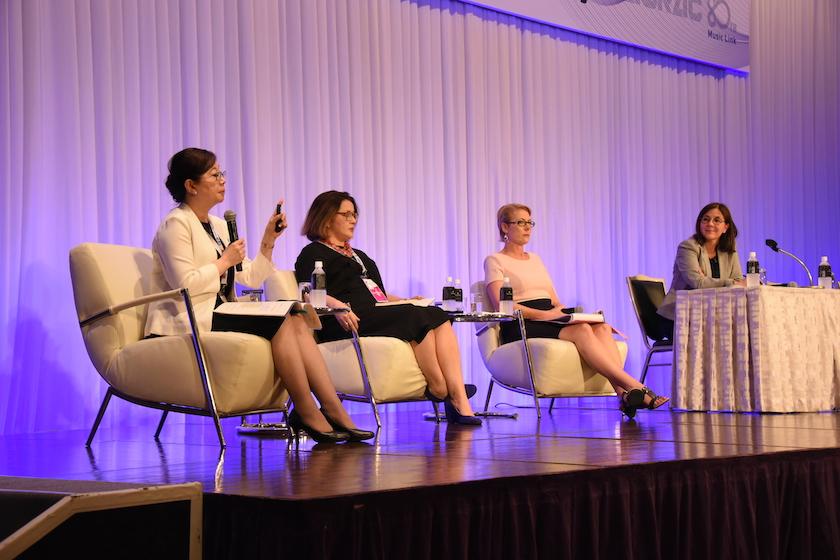 A Women@CISAC panel updated their activities, including the creation of a steering committee and a survey sent to members to better understand where the sector is and how to move forward in improving gender equality.
Photo ©: JASRAC
CISAC's three creators councils CIAGP, CIAM and W&DW described efforts bringing resale right to new territories, reaching new generations of music creators through educational workshops and expanding ties with audiovisual creators in Russia, among additional activities.  
In Tokyo, societies elected the 2019-2022 CISAC Board of Directors. Marcelo Castello Branco (UBC) was appointed as Chair. Asaishi Michio (JASRAC) and Patrick Raude (SACD) were appointed as Vice-Chairs. The 2019-2022 CISAC Board is comprised of: APRA (Australasia), ARTISJUS (Hungary), ASCAP (U.S.A.), Bildupphovsrätt (Sweden), BMI (U.S.A.), GEMA (Germany), JASRAC (Japan), KOMCA (Republic of Korea), LIRA (Netherlands), ONDA (Algeria), PRS for Music (U.K.), SACD (France), SACEM (France), SACM (Mexico), SADAIC (Argentina), SAMRO (South Africa), SIAE (Italy), SOCAN (Canada), UBC (Brazil) and VEGAP (Spain).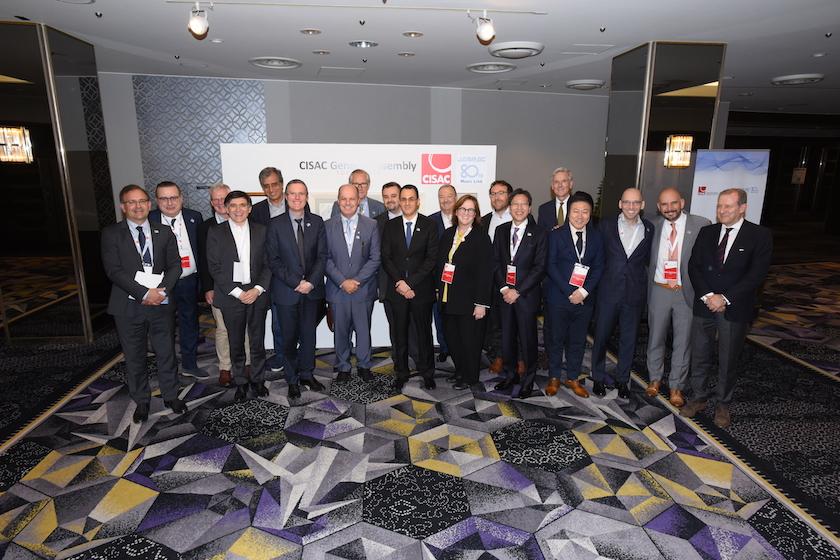 The CISAC Board of Directors for the 2019-2022 term.
Photo ©: JASRAC