Writers & Directors Worldwide and Pan-African Federation of Filmmakers Make Pledge to Collaborate
Summary
President of the CISAC creator council, screenwriter Yves Nilly, also joins two expert panels at the FESPACO Film Festival to share international perspectives on the creators' right to remuneration.
The universal adoption of a remuneration right for audiovisual creators is critically urgent for screenwriters and directors in Africa. This was the message that participants took away from two high-level creators' panels held this week at the 2017 FESPACO film festival in Burkina Faso. Both featured French author and president of Writers & Directors Worldwide, Yves Nilly, who brought international perspective to the debate, describing the barriers and solutions related to making a livelihood as a filmmaker. A new collaboration pledge was also signed with the Pan-African Filmmakers Federation (FEPACI) which paves the way for future cooperation on authors' rights issues with this influential organisation.
The first panel, held on 27 February, was devised by Writers & Directors Worldwide and saw Mr. Nilly joined on stage by three prominent African audiovisual creators. It was held before around 70 screenwriters, directors and filmmakers, and also attended by Burkina Faso's Minister for Foreign Affairs, Mr. Alpha Barry.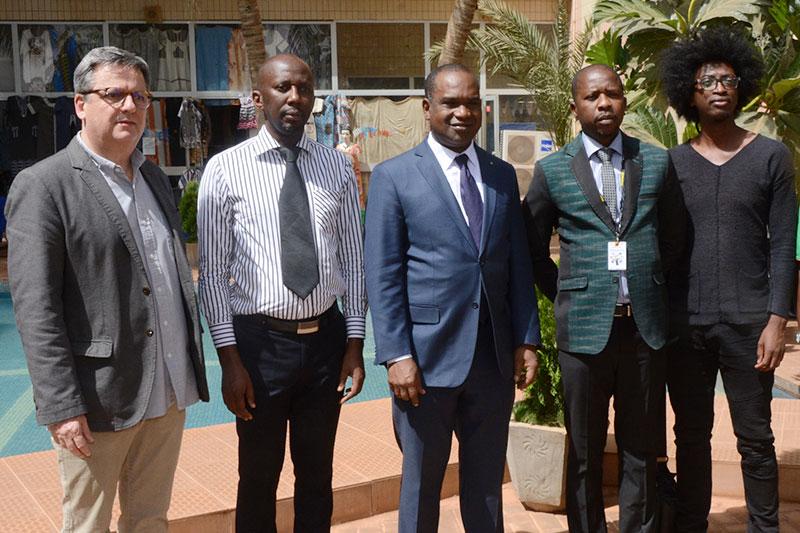 l-r: Yves Nilly, President of Writers & Directors Worldwide; Samuel Sangwa, CISAC Regional Director for Africa; Alpha Barry, Burkina Faso Minister for Foreign Affairs; Walib Bara, Directeur General of BBDA; and Laza, President of the Association Rencontres du Film Court de Madagascar.
First to speak was Madagascan director, Laza. As president of the Association Rencontres du Film Court de Madagascar, and chairman of its annual short film festival, Laza has played an important role in publicising the work of African filmmakers. He is a previous recipient of the French National Order of Merit; runs Rozifilms, his own production company; and has many movies including 13 mars 2002, 6h58 and L'idiot du village.
Next from the Ivory Coast was writer and director, Koffi Fidèle Kouakou. In 2013, he devised and co-wrote La Radio, an original short film that was premiered in the "Short Film Corner" of that year's Cannes Film Festival. He has also written scripts for many films and televisions shows including Dieu est avec nous, Coco-beach and Le convoi de l'espoir; the latter produced for the International Committee of The Red Cross.
The final participant in the Writers & Directors Worldwide panel was scriptwriter Noraogo Sawadogo from Burkina Faso. He was previously awarded the French National Order of Merit for written literature and has received much industry recognition including the FESPACO Award for best TV show, the Digital Africa Award from the Vue d'Afrique Festival in Montreal, and the coveted RFI Cinema Du Public Award. His work includes scripts for the movie Le Fauteuil and for the televisions shows Taxi- Brousse and Commissariat De Tampy.
The panel closed with the official signing of the collaboration pledge. Mr Cheick Oumar Sissoko of The Pan-African Federation of Filmmakers was represented by Laza who along with Mr Nilly, added his approval to the document that pledges to implement a framework of collaboration between the two organisations. The first objective will be to establish a working committee to make expert recommendations on the issue of equitable remuneration of directors and screenwriters in the region. This will be followed by increased networking and cooperation going forward.
The ability to derive a livelihood from the success of one's work is usually the only way that creators from developing regions can finance their career. Without this, their contribution to the economies of their countries and the diversity of global culture is often lost."

- Yves Nilly, President of Writers & Directors Worldwide
On 1 March, Mr Nilly joined a second round-table discussion, this time organised by the World Intellectual Property Organisation (WIPO). Here he gave input on a variety of issues including the management of audiovisual authors' rights in new digital platforms, the monetisation of content, and strategies for negotiation and collective management.
He was joined for this discussion by Chantal Forgo, director of Legal Affairs and International Cooperation for local authors' society, BBDA; Irene Vieira, director general of the Ivory Coast Bureau of Copyright and chairperson of CISAC's African Committee; and by Rob Aft, an expert, teacher and author on film industry business. Again in this panels, the importance of equitable remuneration for audiovisual authors was stressed repeatedly.