WOMEN@CISAC Holds Second Meeting
Summary
WOMEN@CISAC released a brochure highlighting the lack of women in senior management positions amongst CISAC members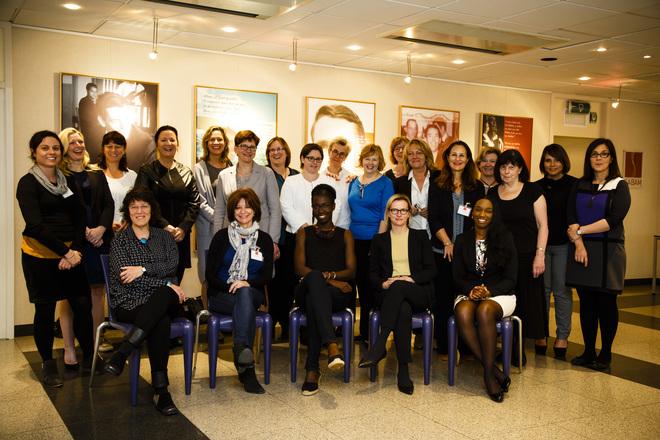 Approximately 30 twenty female creators and society executives from across the world gathered on 3 June in Brussels for the second meeting of the WOMEN@CISAC initiative.
The meeting was an opportunity to review the recently published CISAC figures about the place of women across the membership, to share profesionnal experiences, to learn from executive women who have managed to make it all the way to the top and to encourage further networking. 
Launched in Washington two years ago, and with a first successful meeting organised last year in London, the WOMEN@CISAC initiative is designed to raise awareness about the need for better gender diversity within authors' societies and more support for women creators who want to live from their art. 
WOMEN@CISAC Brochure
A new brochure released at the meeting revealed a lack of women in high-ranking managerial positions across CISAC authors' societies.  It also highlighted that only 20% of women sit on the boards of societies that are members of the CISAC Board of Directors.  
Read the 'WOMEN@CISAC: Where are we?' leaflet.
Key Highlights
CISAC Board of Directors Vice Chair and UBC CEO Marisa Gandelman together with CISAC Board member and SACD Deputy CEO Janine Lorente kick-started the meeting welcoming participants. The objective of the meeting was to craft a strong action plan. 
First on the stage was Elizabeth Matthews, newly-appointed Chief Executive Officer of ASCAP, the largest collective management organisation in the United States, who shared her experience in "making it all the way to the top".  She explained how strenuous the hiring process had been for the role of CEO, involving presentations to numerous juries. Her presentation was warmly applauded. 
BMI Senior Vice President for Global Policy Ann Sweeney explained that BMI was going through a very similar transformation process, with new demographics of talented employees coming up through the ranks.  She paid tribute to BMI Chief Executive Officer Mike O' Neill who, she said, "is highly supportive of gender diversity and takes the issue of broader diversity very seriously." Mike O'Neill's direct reports today are 50% male, 50% female. The BMI Board of Directors is comprised of nearly 40% of women executives.   
CISAC Senior Policy Advisor Kimani Goddard was next on stage.  With a background in trade, intellectual property and global policy, as well as experience in designing impact assessment studies for creative industries, her contribution centred on the condition of women across a broad range of cultural and creative industries (CCIs).  She explained to the audience the vital importance for women of owning the right to their title to property in their intellectual assets as it enables them to retain control over their means of production, moral rights and exclusive rights.
SOCAN Head of International Catherine Saxberg pointed out that women do not do as good a job as men in terms of networking, which is probably one of the key reasons why they hit the glass ceiling.