Women@CISAC brings gender equality action plan to Eurosonic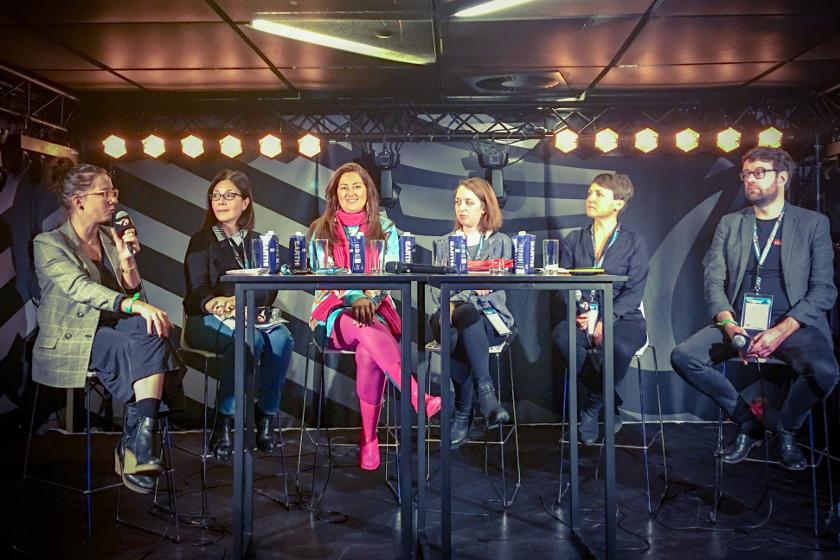 Women@CISAC seeks to improve gender equality across all repertoires, as detailed during a panel at Eurosonic.
Photo ©: Natalia Vergara
Recent years have brought about calls for research into gender and representation in the creative and cultural industries. The music sector remains highly segregated by gender across numerous aspects including pay, leadership roles and festival appearances. At Eurosonic Noorderslag (ESNS) on January 18th, CISAC Director of Repertoires and Creator Relations Silvina Munich brought Women@CISAC to the key international music festival and conference during the panel "Pushing for change from within: how we move forward for gender equality in the music industry". 
Mirroring the 2018 CISAC General Assembly Women@CISAC panel, Dr Pauwke Berkers of the University of Rotterdam provided insight into his research for BUMA/STEMRA. The research is meant to serve as a basis for initiatives, such as Keychange, to improve the balance for women. Danish Composers Society General Manager Sine Tofte Hannibal reinforced Berker's research by revealing that her society examined the live classical music repertoire in Denmark that showed less than 4% was written by women.
Regarding actions, as explained by PRS Foundation Project Manager Jess Partidge, Keychange is an international initiative which empowers women to transform the future of music and encourage festivals to achieve a 50:50 gender balance by 2022. Another programme is Señoritas on Fire, a collective of female composers that seek to promote female songwriters and singers, founded by Natalia Vergara.  
CISAC has been rallying societies around the globe to make establishing gender equality a main focus within collective management. During the panel, Silvina Munich detailed the 5-point CISAC action plan on gender equality. The plan, which was established at the CISAC General Assembly in June 2018, seeks to establish a working committee across repertoires, collate statistics from CISAC societies as well as conduct a dedicated survey to better understand the issues at hand.
As a hub for societies throughout the world, CISAC has the potential to play an important role in improving equality. The confederation can coordinate sharing best practices, be a resource on women in the creative field as well as make recommendations to its members.