Screenwriters and Directors Unite, Sign the Madrid Manifesto, in Collective Call for Fair Remuneration of Audiovisual Authors at SGAE Foundation Conference
Summary
Over 250 Screenwriters and Directors Call on the European Union to Recognise and Harmonise Right to Remuneration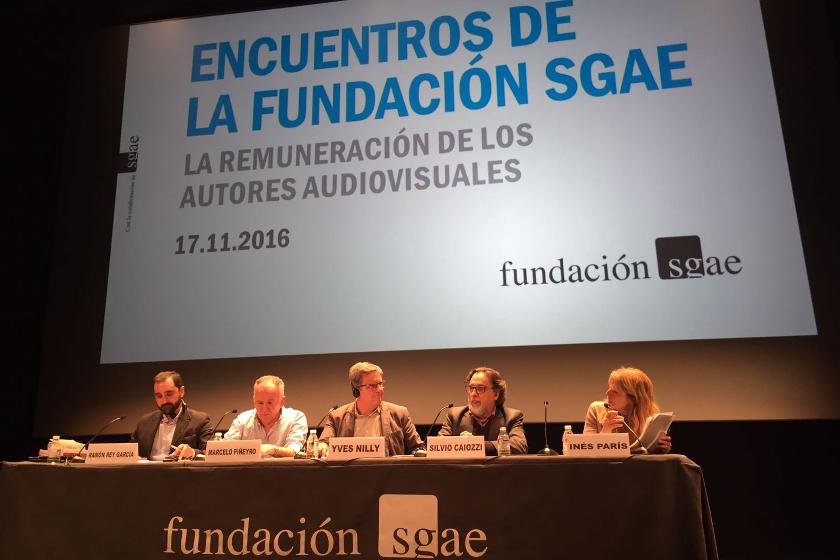 L-R: Lawyer Ramón Rey García, CISAC Vice President Marcelo Piñeyro, W&DW President Yves Nilly, ATN Vice President Silvio Caiozzi and Spanish filmmaker Inés Paris.
Photo ©: Silvina Munich
On 17 November, the latest edition of the Encuentros de la Fundacion SGAE (Encounters of the SGAE Foundation) gathered creators together in Madrid to discuss the challenges they face in receiving fair remuneration. For audiovisual creators, this means that screenwriters and directors receive remuneration for the re-use or re-broadcast of their works. In this regard, Spanish law is exemplary as it understands an unwaivable and unassignable right to remuneration of audiovisual authors.
Opening the meeting, film director and SGAE Vice President Miguel Hermoso declared,
To be free, a creator must be self-sufficient". 
SGAE Deputy General Director Janine Lorente then thanked CISAC in her opening remarks for taking action and promoting this right at an international level. She stated that audiovisual authors enhance the vitality of the film industry by generating employment as well as value for national economies. Thanks to these benefits, it is only natural that this right for a decent living when works are sold by producers and broadcasted should be granted for audiovisual creators. The problem, however, rests in the licensing of rights to producers. CISAC has been actively engaged in helping broaden the scope of audiovisual authors' recognition throughout the world from China to Africa and Chile.
A roundtable on the international situation of audiovisual remuneration rights, moderated by Writers & Directors Worldwide (W&DW) President Yves Nilly, followed afterwards. Yves Nilly reminded attendees of the recent Spinal Tap example, where authors were not able to receive proper remuneration resulting from the success of the film. ATN Vice President Silvio Caiozzi then shared his observations. Actors and musicians have been recognised yet screenwriters and directors are still waiting for their day to come. He reminded the audience about the recent passage of the Ricardo Larrain Law in Chile, which granted audiovisual creators fair remuneration rights.
CISAC Vice President Marcelo Piñeyro stressed the fundamental role of national laws and how essential it is to work together and negotiate these laws. Spanish filmmaker Inés Paris followed, noting that the idea of an author is chaos in itself. Evoking the daily struggles of authors, Inés Paris highlighted the urgent necessity of a global solution that requires fair remuneration. Spain is an example as to incorporating the unwaivable aspect in these rights and the legal framework.
Lawyer Ramon Rey Garcia wrapped up the panel discussion noting that the topic combines numerous legislative ideas. Authors do benefit from certain protections, and the audiovisual world is evolving. However, he reminded the public that certain aspects of Spanish law seemed to be incompatible with newer platforms.
A second panel followed on future audiovisual challenges featuring SGAE Audiovisual Manager Fabia Buenaventura, Catalan screenwriter and director Mar Coll, screenwriter and director Teresa de Rosendo and Universitat Oberta de Catalunya Intellectual Property Professor Raquel Xalabarder. Mar Coll shared her experiences as a creator, evoking the lingering uncertainty that characterises creators' lives. Teresa de Rosendo then illustrated the lives and protections of screenwriters in Spain, which are beneficial when compared to those in the United States. Nevertheless the rise of free labour is causing concern.
During the conference, Raquel Xalabarder shared early conclusions on a study commissioned by CISAC on audiovisual author remuneration, which will outline solutions to improve the current situation of creators, that is currently in progress. The disparity of the present context is the difficulty faced in implementing a global law for this. The current licensing framework grants full rights to producers. These legislative discrepancies weaken the system more than it should.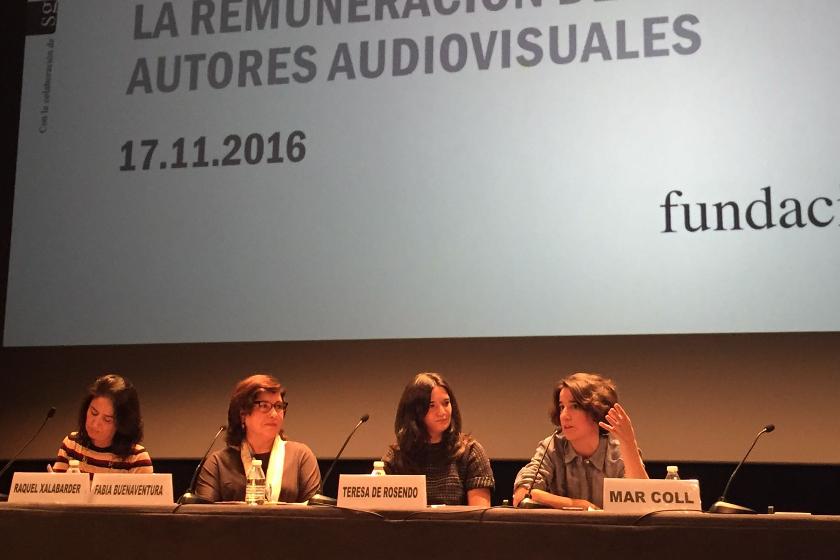 L-R: Universitat Oberta de Catalunya Intellectual Property Professor Raquel Xalabarder, SGAE Audiovisual Manager Fabia Buenaventura, screenwriters and directors Teresa de Rosendo and Mar Coll. 
Photo ©: Silvina Munich
A historic document was issued at the end of the meeting. The Madrid Manifesto was co-signed by more than 250 Spanish screenwriters and directors as well as the main organisations. This manifesto calls upon the European Union lawmakers to recognise the importance of harmonised audiovisual rights across all countries. The Madrid Manifesto also requests that the unwaivable, unassignable right to remuneration demanded by the Audiovisual Campaign to be introduced.
It is vital that the EU does not leave out of the process of harmonizing copyright to directors and screenwriters of the audiovisual world".
While Spanish audiovisual authors are protected by laws that guarantee fair remuneration, others in Europe and around the world still do not have a right to receive payment for the broadcast or VOD online platform and dissemination of works. Given successes in Chile and with the Madrid Manifesto, the future looks bright for audiovisual authors seeking fair  and equitable remuneration.
Download the Madrid Manifesto here.