CISAC and Creators promote gender equality in the arts at UNESCO
Summary
CISAC brings Suzanne Combo to panel to express challenges faced by female creators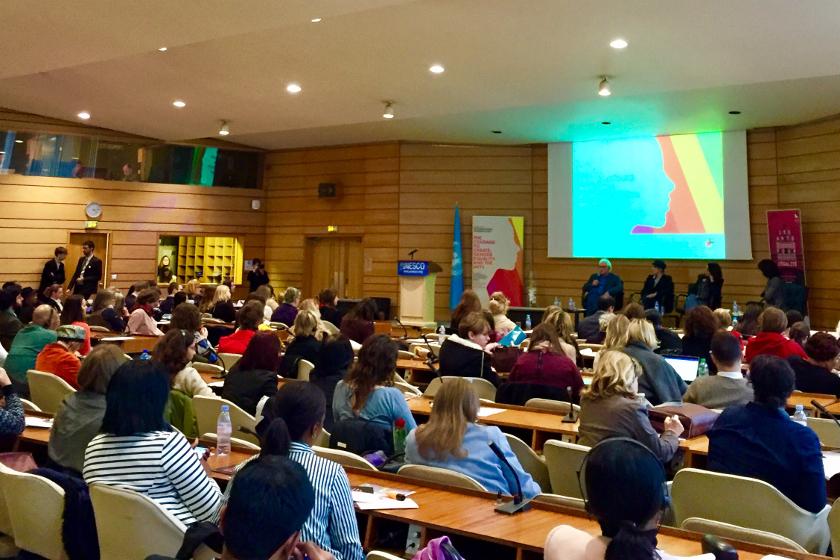 Photo ©: CISAC
As part of HeForShe week, UNESCO hosted a round table debate in its headquarters in Paris, on the theme "The Courage to Create: Gender Equality and the Arts" on 8 March. The discussion brought together a unique group of creators and academics who are committed to gender issues, with a focus on achievements of pioneering women and new frontiers for achieving parity and artistic freedom. It complemented the 2017 edition of International Women's Day, providing an opportunity for artists and cultural professionals to reflect on what gender equality means for the arts and creative industries worldwide.
CISAC has joined UNESCO to promote and help reach gender equality for women as creators as well as collaborate to reduce the roadblocks to participation and progression.
CISAC was represented by the French female artist Suzanne Combo, who was invited to participate in a panel moderated by Audrey Pulvar to discuss the topic "Courage and creativity: What freedom of artistic expression for women?". The panel examined: 
Why is it still so difficult for women to be artists?
Do women still face an additional level of violence, censorship, exclusion and intimidation as artists?
Does creativity go through the same process as taking power over one's own body?
Emmy and Peabody Award-winning film director Deeyah Khan reminded that women still have to fight for the rights they won and finish the fight to win rights equality, dignity and participation. Equal pay for the same work is of crucial importance. Women still earn 12 to 15% less for the same job and competency. Choosing to be an artist is always challenging in the world, in the way one's defines themselves in society or in public.
According to Freemuse Co-founder and Executive Director Ole Reitov in regards to the issue of stereotypes and control, the visual representation of female artists, including in stage performances, remains problematic and taboo in the music industry.
Suzanne Combo explained that precariousness is certainly one of the major factors impeding women in embracing a career as an artist. In many cases, the sexism that women creators face covers all aspects: clothing, voice and performances that make them feel insecure and lose their own self-confidence. Most of the technology and software used to produce albums are mastered predominately by men.
Women creators still represent a minority in many authors' societies around the world. Suzanne stressed the need for female artists to reach executive and board levels of decision-making. 
The revival of the women@CISAC initiative is key to address the issue of filling those gaps, both in the world of collective management and for women creators at large.
Participants included the French Minister of Families, Children and Women's Rights Laurence Rossignol, UN Women (France) President Fanny Benedetti, Eric Falt, as well as Deeyah Khan, Ole Reitov, Maysaloun Hamoud, Shlomi Elkabetz, Simon Carpentier and Victor Solf, Group Her, Jepchumba, Pia MYrvoLD, Octavio Kulesz, and Françoise Fabian.