Central and East Europe CISAC members gather in Budapest on digital adaptation, legal policy, and Creators for Ukraine.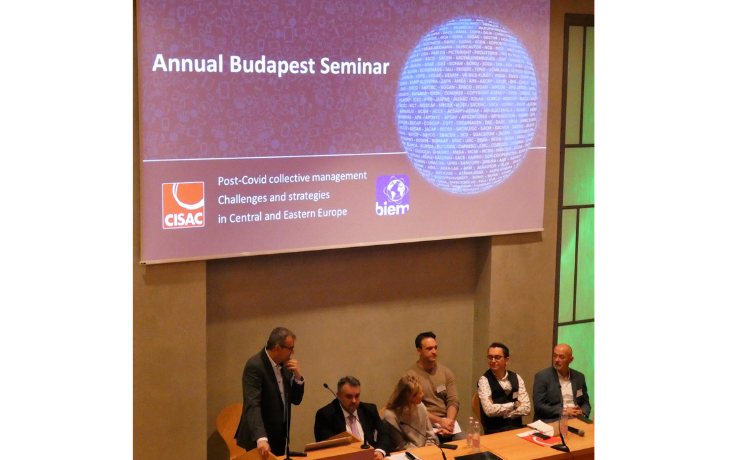 Growing digital collections by more efficient licensing was one of the leading themes of CISAC's annual regional seminar for Central and Eastern Europe. The event brought together more than 30 society representatives to discuss post-COVID collective management strategies and CISAC's goals, activities and projects.
The event, hosted by Artisjus on 8th December in Budapest and the first in-person regional meeting since the pandemic, heard an update from CISAC DG Gadi Oron following a nearly 2-year strategic review involving societies across the CISAC network.
CISAC's defined goals are to achieve a strong global network, a favourable legal environment for societies to operate, more efficient society operations and increased collections and distributions. Key priorities will be to improve the network's performance, strengthen lobbying, enhance systems, and streamline the confederation's committee structure to make it more integrated and effective.
With some CMOs outside the region also in attendance (BMI, KOMCA and PRS), the meeting covered best practice strategies across digital licencing, information systems, lobbying and communications.
CEOs and senior executives from Artisjus, AKM, HDS-ZAMP, OSA and ZAPA discussed the post-COVID quest for increased licensing efficiency and cost effective management. These have become all the more important in the face of competition by new economic entrants (e.g., IME) and the economic and political instability caused by the ongoing war in Ukraine.
Licensing strategies and partnerships
CEE societies outlined different ways in which they are working to maximise efficiency, in particular in digital – for example, by making alliances with other CMOs or using the services of technological companies. Artisjus has recently reached an agreement with SACEM, and AKM has started a co-operation with ICE. Some CEE societies that have been working with MINT gave positive feedback. However, societies such as HDS-ZAMP and OSA, while remaining open to new business opportunities, believe that in-house solutions still prove to be the best at this stage.
The meeting was organised and led by the CISAC/BIEM regional office with input from CISAC's team on business, legal and public policy and communications.
A workshop on business and technology looked at the need for societies to constantly update operations and IT tools, and the services CISAC can provide. These are focused on key areas: documentation and distribution, in particular the transfer of the IP of CIS-Net to CISAC; support for digital solutions developed by societies; the upgraded ISWC, improving the matching performed by societies and CISAC's campaign to extend the ISWC to publishers and across the music value chain. CISAC can also help societies define their requirements, identifying the proper solution providers.
A lobbying and communications workshop outlined CISAC's policy priorities and key campaigns, including the audiovisual fair remuneration campaign, resale right for visual artists, fair value for songwriters in the music streaming world, the impact of AI and the progress of the buyouts/"Your Music Your Future International" campaign. Best practice communications strategy was also shared, including leveraging the advocacy and educational value of the Global Collections Report and ensuring clear communications between CISAC and its members through the written bulletins, the Communications Experts Group, media and social media.
Societies in the CEE region, especially ZAiKS, have played a key role in the CISAC-led Creators for Ukraine project which has raised €1.4 million in donations from over 30 CISAC societies. CISAC presented its "impact report" on the campaign. In a passionate message of appreciation at the end of the meeting, singer-songwriter Valerii Kharchyshyn chair of Ukraine's CISAC members NGO-UACRR, thanked the CISAC community for its support and urged that it be maintained in the coming months.