CISAC Announces President, Vice Presidents and New Board of Directors
Summary
Celebrated Chinese Film Director Jia Zhang-ke Joins as a CISAC Vice President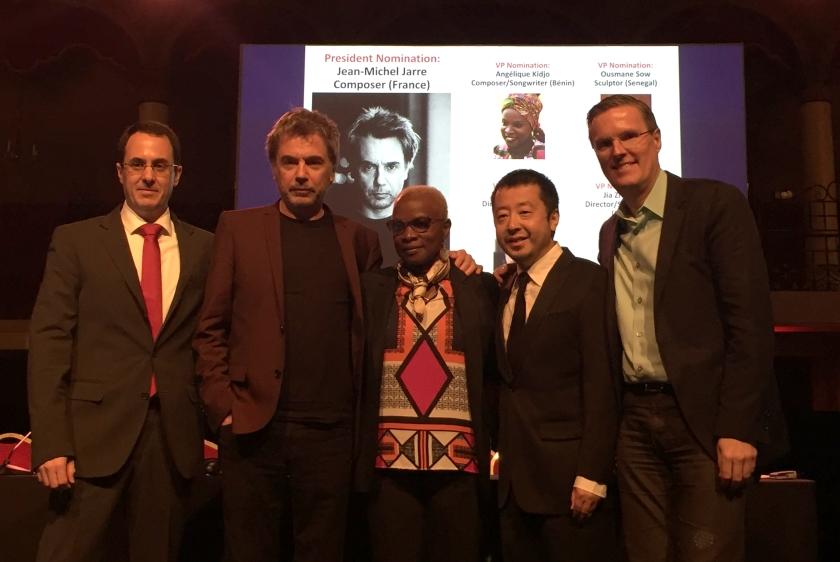 L-R: CISAC Director General Gadi Oron, CISAC President Jean-Michel Jarre, CISAC Vice President Angélique Kidjo, CISAC Vice President Jia Zhang-ke, CISAC Chairperson Eric Baptiste.
Paris, France - 6 June 2016 - The International Confederation of Societies of Authors and Composers (CISAC) announced today the results of its 2016 elections for President, Vice Presidents and Board of Directors, held in Paris on 3 June.
Electronic music pioneer, composer and producer Jean-Michel Jarre was re-elected as President for a three-year term. Three of CISAC's Vice Presidents were also re-elected: Grammy Award-winning singer-songwriter Angélique Kidjo from Benin; internationally-renowned Argentinean director Marcelo Piñeyro and celebrated Senegalese sculptor Ousmane Sow. The confederation also announced the election of award-winning Chinese film director, scriptwriter and producer Jia Zhang-ke as Vice President.
The elections took place during CISAC's 2016 General Assembly, which this year also marked the organisation's 90th anniversary. Held in Paris, the birthplace of authors' rights and collective management, the meeting gathered over 250 representatives of CISAC member societies from all over the world. 
CISAC was established in Paris in 1926 by a small group of like-minded societies that shared a common goal, to represent the interests of authors, and a common model, the collective management of rights. Ninety years later, CISAC has grown into the leading global network of authors' societies, with 230 members representing over four million creators from all artistic fields: music, audiovisual, drama, literature and visual arts.   
President
President of CISAC since 2013, Jean-Michel Jarre has infused CISAC's advocacy work with charismatic vitality.  Since his first election, he has spoken compellingly and passionately about authors' rights, raising CISAC's international profile. Advocating relentlessly on behalf of CISAC's four million creators, he has upheld their rights at institutions such as the World Intellectual Property Organization, the United Nations and UNESCO.
Vice Presidents
Along with Angélique Kidjo, Marcelo Piñeyro and Ousmane Sow who were re-elected for another three-year term, CISAC is proud to welcome internationally-renowned film director Jia Zhang-ke as new Vice President. Upon graduating from the Beijing Film Academy, Jia rapidly achieved international success, notably winning the Golden Lion for Still Life in Venice in 2006 and Best Screenplay for A Touch of Sin at the Cannes International Film Festival in 2013. The following year, Jia served as a Cannes Jury member. Jia was awarded the Carosse d'or and had his film Mountains May Depart compete for the Palme d'or during the 2015 edition of the festival.
Commenting on the election of the President and Vice Presidents, CISAC Director General Gadi Oron said: "We are thrilled that Jean-Michel Jarre, Angélique Kidjo, Marcelo Piñeyro and Ousmane Sow have been re-elected as President and Vice-Presidents of CISAC. We are also delighted to welcome celebrated film director Jia Zhang-ke as our new Vice President. Jia's election would help strengthen CISAC's relationship with China and the community of Chinese creators, at a time when China is increasingly improving its protection of authors' rights and establishing itself as a leading market for creative content".
New Board of Directors
CISAC's General Assembly also elected a new Board of Directors consisting of 20 member societies, each of which will serve for a three-year term.  The new 2016-2019 Board of Directors is effective immediately. Representing authors' societies from all geographies and artistic repertoires, it comprises representatives from the following authors' societies :  APRA (Australia), ARTISJUS (Hungary), ASCAP (U.S.A.), Bildupphovsrätt (Sweden), BMI (U.S.A.), GEMA (Germany), JASRAC (Japan), LIRA (Netherlands), ONDA (Algeria), PRS for Music (U.K.), SACD (France), SACEM (France), SACM (Mexico), SADAIC (Argentina), SAMRO (South Africa), SGAE (Spain), SIAE (Italy), SOCAN (Canada), UBC (Brazil) and VEGAP (Spain).
[end] 
About CISAC
CISAC – the International Confederation of Societies of Authors and Composers – is the world leading network of authors' societies.
With 230 member societies in 120 countries, CISAC represents more than 4 million creators from all geographic areas and artistic repertoires; music, audiovisual, drama, literature and visual arts. 
CISAC protects the rights and represents the interests of creators worldwide. Founded in 1926, it is a non-governmental, not-for-profit organisation with headquarters in France and regional offices in Africa (Burkina Faso), Latin America (Chile), Asia-Pacific (China) and Europe (Hungary).
Learn more at www.cisac.org, on Twitter @CISACNews and on Facebook.
Media Contacts
Cécile Roy - Director of Communications - cecile.roy@cisac.org - +33 1 55 62 08 50
Isabelle Repiton – Media Relations – Isabelle.repiton@cisac.org - +33 1 55 62 08 53