Online music: the music sector signs an agreement on artists' remuneration in France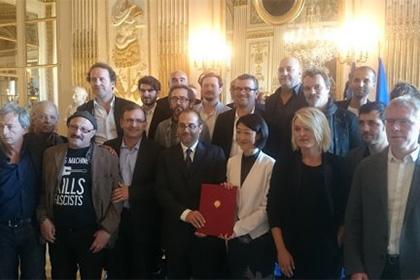 Paris – 6 October 2015.  The Freedom of Creation Law, about to be passed in France, embodies the principle of "guaranteed minimum remuneration for artists" in online music.
This progress is the fruit of a Memorandum of Understanding "for a fair development of online music" signed on 2 October by 18 organisations representing music industry stakeholders in France. The agreement is described as "historical" by the French Ministry of Culture which organised the mediation between the stakeholders: online music platforms, producers of recorded music and performances, authors and artists.
The agreement's objectives are to develop legal music offerings and to ensure the vitality of all stakeholders and the diversity of creation and its dissemination. To achieve this, it sets out commitments to make the revenues from online music more transparent and share them more fairly between the players.
The aim is to restore the conditions for artists' fair remuneration after years of declining revenues from recorded music in the transition to digital.
At the same time, the government has reiterated its commitment to continue "promoting authors' rights and related rights" at the national, European and international level.
A Music Economy Observatory is being created to enable artists to gain a better understanding of the basis of their remuneration and to improve the transparency of digital revenues. Its function will be to collect all economic data on the sector and to measure revenue streams. The agreement's signatories, particularly French producers and platforms, undertake to "cooperate" with the Observatory by supplying it with data.
Phonogram producers have undertaken to share with artists "all" the revenue that they receive from online services for the use of their recordings and to negotiate guaranteed minimum remuneration for artists in return for the digital exploitation of recordings. Producers and collective management organisations (CMOs) undertake to report revenues to artists "in a transparent, comprehensible and easily usable" form.
The arrangements for the practical implementation of the agreement will be determined in the course of negotiations that will begin in the next few months, but it already represents a first step towards improving the online music ecosystem by guaranteeing transparency and minimum remuneration for artists.
Although the leading global online music platforms – Apple Music and Spotify – are not signatories to this French agreement, the ball has been set rolling.