Latin American societies establish work plan at CISAC seminar to increase visual artists protections in Latin America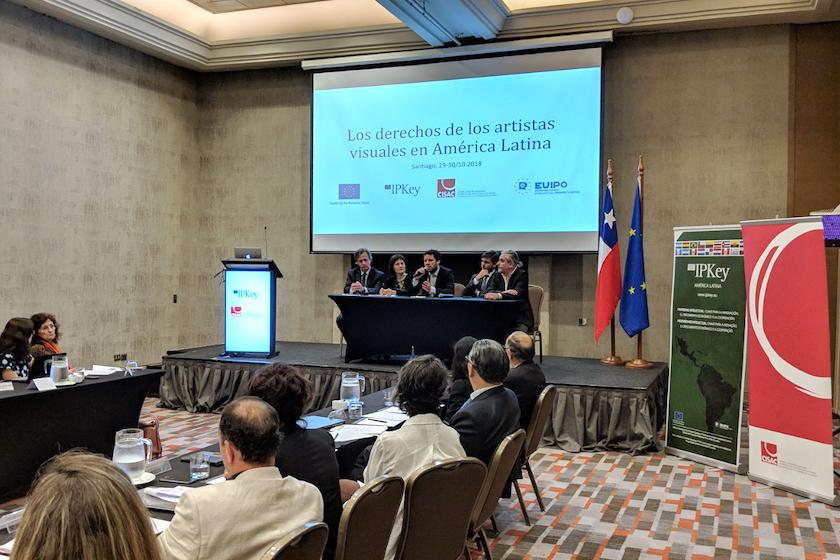 Collective management organisations from Argentina, Brazil, Chile, Ecuador, Peru, Mexico and Uruguay joined intellectual property leaders in Chile to help expand rights for Latin American visual artists. 
Photo ©: CISAC
Latin America has become a progressive force in establishing rights for authors, notably in audiovisual with recent laws establishing the right to remuneration for the re-use or re-broadcast of works being passed into law. On October 29th and 30th in Santiago, Chile, collective management organisations from Argentina, Brazil, Chile, Ecuador, Peru, Mexico, Uruguay and intellectual property leaders participated in a seminar to build on this momentum to expand rights for visual artists. 
Organised by CISAC with support from the EU Intellectual Property Office and IP Key, the "Rights of visual artists in Latin America" seminar examined visual arts rights issues and concerns including:
Modernisation of the European Union legal framework for collective management organisations;
Obstacles in Latin America in implementing resale right;
Resale right in Latin America copyright legislation;
State of collective management of visual artists in Latin America;
Achievements, deficiencies and outlook for collective management of visual artists' rights in Latin America;
Chile's visual arts bill.
The conference was opened by CISAC Regional Director Santiago Schuster and IP Key Project Leader Pedro Duarte, who highlighted the need to increase support for the development of visual artists rights management in Latin America.
The seminar included roundtables of visual artists exploring if visual artists rights management is possible in Latin America as well as to create a work plan for visual artist societies in the region. Among the objectives established for the work plan, it will seek to diagnose the operational capacity of visual rights entities, conduct a report about visual artists' rights in the region, create a database containing key information (e.g., legislation, tariffs, licensing models and economic data) for visual rights entities and promote creating new visual rights CMOs in countries in Latin America where they currently do not exist.
The plan looks to implement collections, documentation and distribution training programmes for the technical staff of the region's CMOs. Finally, it will encourage alliances with musical societies. A report will be prepared and presented to the 2019 CISAC Latin American Committee to be held in Lima, Peru.
At the end of the seminar, the following members were elected for the Board of Directors of the Latin America Visual Artists Entities Group: Fabiana Nascimento (AUTVIS), Yuriem Echevarría (SAVA), María José de la Fuente (AGADU), Ylva Villavicencio (APSAV) and Paul Achar (SOMAAP).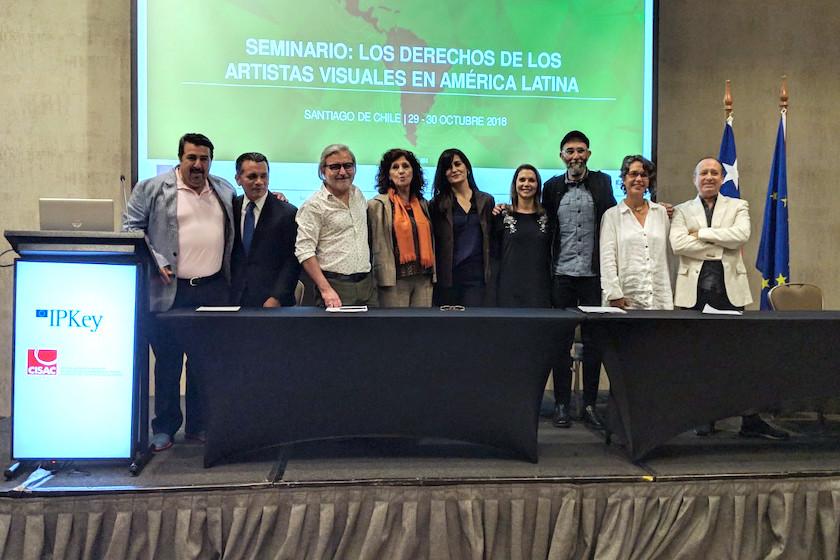 Leaders of Latin American visual artists societies united to construct a new work plan to further rights for visual artists in the region.
Photo ©: CISAC