Ivory Coast embraces authors' rights and CISAC at Regional African Committee in Abidjan
Summary
Major reception held by Minister of Culture and Francophonie Maurice Kouakou Bandaman welcomes about 200 creators, government officials and societies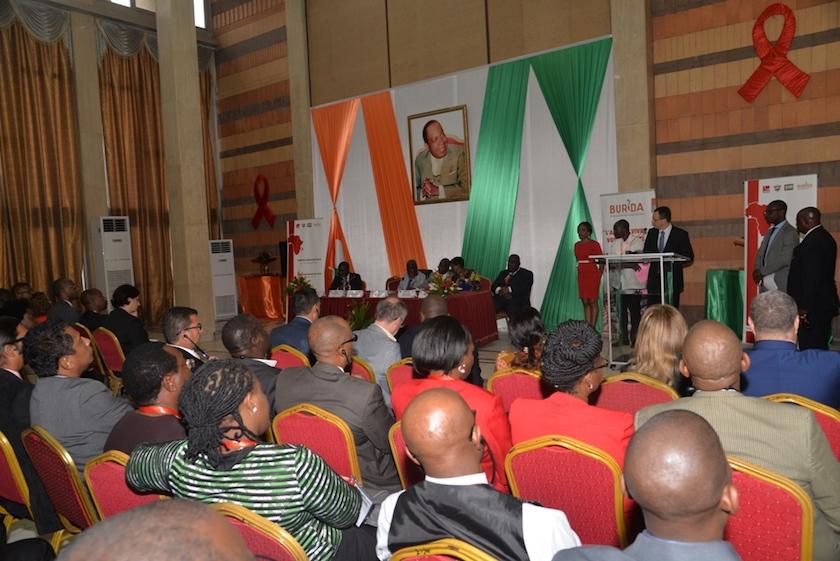 The opening reception at Abidjan city hall brought together Ministers of Culture from Ivory Coast and Burkina Faso as well as over 200 creators and society representatives.
Photo ©: BURIDA
The Ivory Coast has rapidly become an exemplary country for authors' rights with CISAC member society BURIDA providing the third largest amount of collections for creators in Africa, after only South Africa and Algeria. While Africa represents less than 1% of total global royalty collections reported to CISAC, BURIDA has become a model in passing societal, legislative and administrative reforms to improve the livelihoods of creators seeking to live off of their works. Soon, the country is expected to enact reforms that will allow for collections from private copying levies to take place, further enhancing the stance of authors in the country.
It is because of this background that CISAC decided to hold its 2018 Regional African Committee (CAF) in Abidjan on July 24th and 25th, with the support of BURIDA and the Ministry of Culture and Francophonie. Not only did the local collective management organisation achieve significant improvements over time, but the government itself has proven to be a supportive partner for fostering creative industries and creators in the country. According to CISAC Director General Gadi Oron during an audience with the Ministry, Ivory Coast provides an example to the many countries in Africa that came to Abidjan.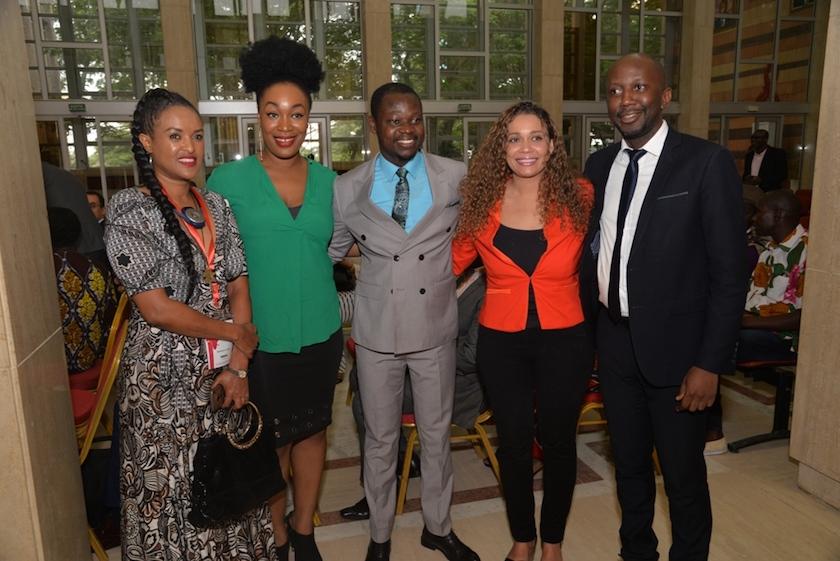 The reception brought together Ivory Coast creator ambassadors Josey, Tsedenia Gebremarkos, Agalawal and Solange Cesarovna along with CISAC Regional Director for Africa Samuel Sangwa.
Photo ©: BURIDA
A major reception in the City Hall of Abidjan welcomed societies from throughout Africa and CISAC as well as representatives from WIPO and Organisation Africaine de la Propriété Intellectuelle (OAPI). With creators and society CEOs in attendance, the reception also saw the Minister of Culture of Burkina Faso Minister of Culture & Tourism Abdoul Karim Sango as Guest of Honour.
See the photo gallery.
During the reception, Minister Maurice Bandaman underscored the progress made by the country and BURIDA through institutional, judicial and administrative reforms: "BURIDA has succeeded in raising the needle to reach 3rd place among the highest performing societies [in Africa]." The Minister cited CISAC, WIPO, ONDA in Algeria and BBDA in Burkina Faso as sources of support that had led to this moment of national pride in hosting societies from throughout Africa in Abidjan. These African societies, he noted, are doing better and better.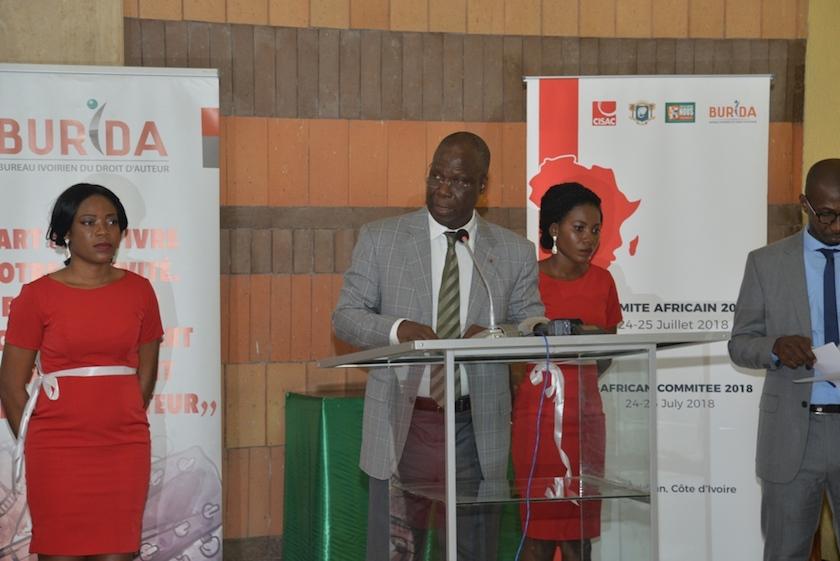 Ivory Coast Minister of Culture and Francophonie Maurice Kouakou Bandaman draws attention to the progress made by CISAC member society BURIDA, as well as the contributions to creators of Burkina Faso, Algeria and South Africa to the region.
Photo ©: BURIDA
He emphasised the essential guidance the Confederation provided as an international institution, declaring: "The structures that are in place today are because of the recommendations by international institutions. They are there because we have applied each and every letter of their recommendations, and the results are there today." 
The next step for increasing remuneration for creators in the country will be the collections of private copying levies, following recommendations and meetings CISAC and BURIDA have held in recent years.
CISAC Director General Gadi Oron addressed creators, Ministers and societies during the reception, drawing attention to the "amazing depth of creativity" the Ivory Coast has. He pointed out that creators need government officials such as Minister Maurice Bandaman and Minister Abdoul Karim Sango "to help us in the interests of creators in Africa and around the world" through strong creator protections and copyright laws that protect works and allow them to receive remuneration for the use of their works. Earlier, a CISAC delegation met with Minister Maurice Bandaman to discuss how the government can continue to support the interests of creators in Africa.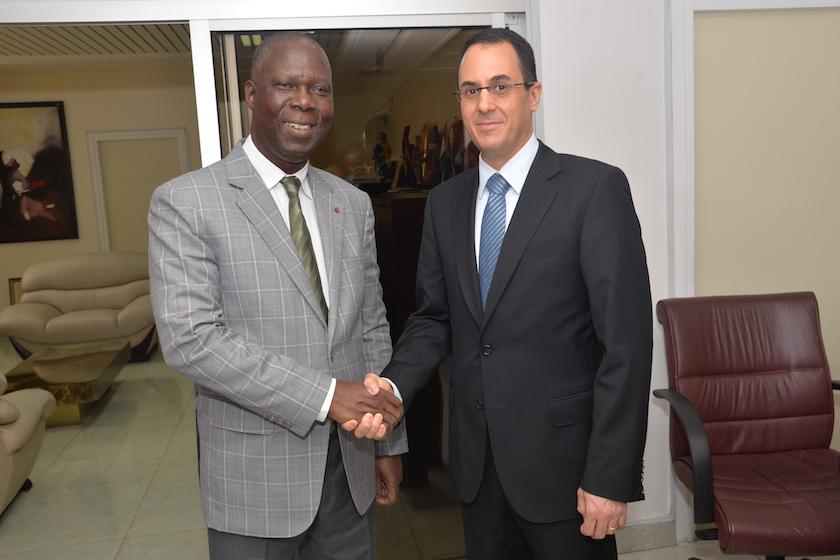 Ivory Coast Minister of Culture and Francophonie Maurice Kouakou Bandaman and CISAC Director General Gadi Oron following a reception by the ministry to discuss authors' rights and protections in the region.
Photo ©: BURIDA
Gadi Oron examined two reasons to be optimistic about the region, which were further examined during CAF meetings. The first is to build the infrastructure for African societies to make digital one of the biggest sources of revenue for creators in the region, such as through work towards a common African database and a common digital licensing platform. The second is improving private copying levies throughout the region, which are an important source of collections.
It is through partnerships, such as with WIPO and ARIPO, as well as through CISAC member societies that best practices in management, collections and distributions continue to spread through the region. Organised jointly with WIPO, a study day on July 23rd explored copyright legislation and regulation of the audiovisual ecosystem. 
During the following days at the CAF meetings, African societies learned about representation contracts among CMOs from SPA; digital licensing challenges and solutions from CAPASSO; and management tools from CISAC as well as member societies.
At the conclusion of the committee, the new CAF Executive Committee was announced. The committee includes OMDA Director General Haja Ranjarivo, BBDA Director General Wahabou Bara, BCDA Director Maxime Foutou, BMDA Director Ismail Menkari, UPRS General Secretary James Wasula and SAMRO CEO Nothando Migogo. The new CAF Executive Committee President is SAMRO's Nothando Migogo with Vice President being BCDA's Maxime Foutou.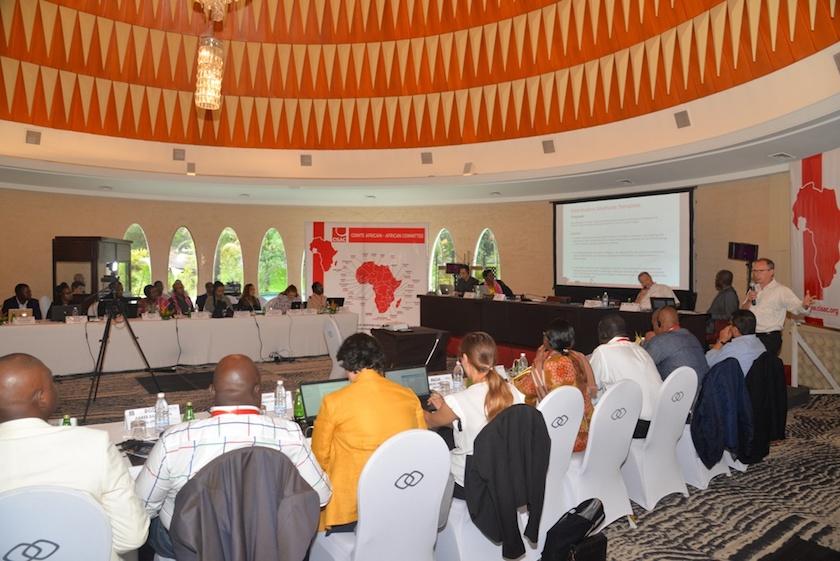 The 2018 CAF meeting focused on lobbying governments for improving legislation, private copying levies, improving payments to creators from major users, and putting in place licensing and collections systems for the rapidly-growing digital market.
Photo ©: BURIDA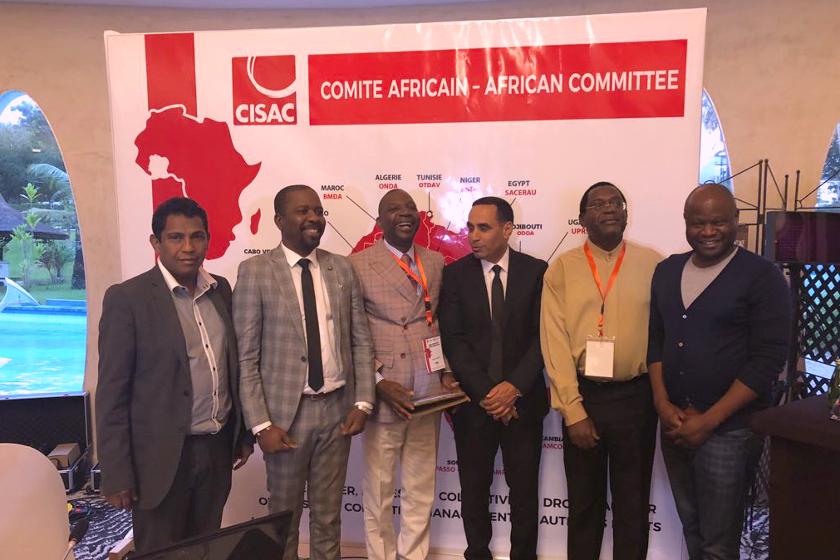 The new CISAC African Committee Executive Committee announced during the African Committee in Abidjan.
Photo ©: CISAC