International conference in Chile explores value chain in light of digital market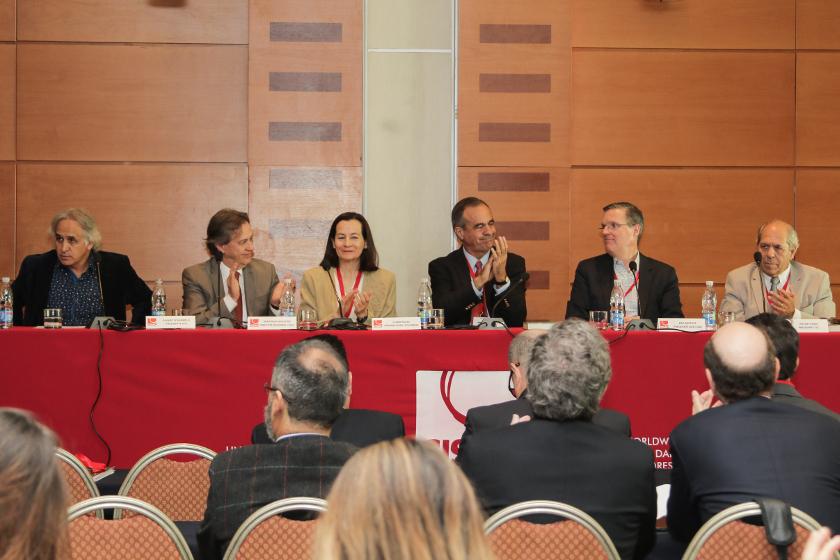 L-R: SCD President Álvaro Scaramelli, CISAC Regional Director Santiago Schuster, Colombia House Representative Clara Rojas, Chile Senator Ignacio Walker, CISAC Board Chairperson Eric Baptiste and CLC President Víctor Yúnes. Photo ©: Gonzalo Barañao
Photo ©: Gonzalo Barañao
On 25 April in Valparaiso, CISAC organised the "International conference of authors' rights and collective management: an inclusive value chain for creators", examining the issue of the value chain in the digital era.
The conference drew some 170 people from 23 countries, including members of 35 collective management organisations and 13 publishing companies. Chilean Education and Culture Senate Commission Chairman Ignacio Walker, CISAC Board of Directors Chairperson Eric Baptiste, CISAC Regional Director Santiago Schuster, Regional Latin American Committee Chairperson Victor Yunes and SCD Chairman Alvaro Scaramelli welcomed attendees during the conference opening. 
Colombia Congresswoman Clara Rojas began the conference discussing how the authors' right is a human right that needs defending. Dr Rojas has been a key supporter of the remuneration right for screenwriters and directors, the Audiovisual Campaign spearheaded by Writers & Directors Worldwide. The right has now been approved by the Colombian House of Representatives. In recognition of her exceptional contribution to the promotion and protection of audiovisual creators rights, Clara Rojas received the inaugural Writers & Directors Worldwide Honor Prize following her presentation.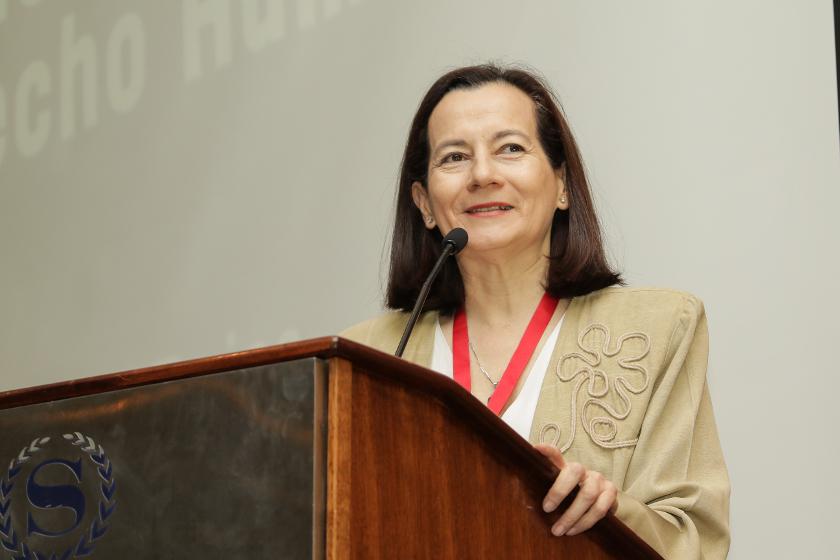 Colombia House Representative Clara Rojas speaks at the conference on authors' right is a human right.
Photo ©: Gonzalo Barañao
Eric Baptiste spoke on a better sharing of value between creators and online intermediaries. The CISAC Board Chairperson said authors and artists should be recognised more than just by symbolic means. "Culture is not a supplement of soul, it is the soul in a society." Protecting authors through copyright is a way of creating new opportunities to disseminate their works through online intermediarie, he said.
A panel of experts discussed the inclusive nature of collective management societies for authors. Collective management societies pride themselves in encouraging authors to have their voice heard and become involved.
Chile's Carmen Valencia, from the local publishers association AGEM, then animated a panel on the role of independent companies in the digital market. With the growing importance of independents, diversifying the relationships between authors and industry, what effect does this have in Latin America? The conference explored how these companies contribute to the market and help complement or create an inclusive value chain.
Other panels explored how creators benefit from the subscription business model of streaming on-demand, such as Netflix and Google Play. The conference also explored safe ports for ISPs, which were established to encourage the collaboration of ISPs in the containment of illegal activities. Technological issues were also addressed, including society software solutions, ISWC strategy, IPI, Google, ISNI, ISAN and the visual art recognition tool, AIR.