CISAC partners OIF in event to advance private copying regimes in Africa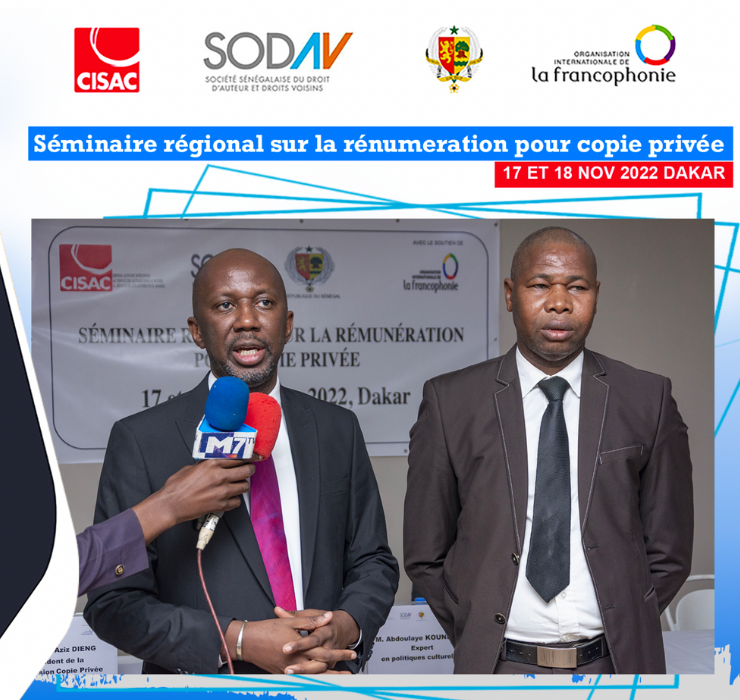 From left, CISAC Regional Director Africa, Samuel Sangwa and Director General SODAV, Aly Bathily
©Eyes Digital Studio
Developing private copying as a remuneration stream for creators is one of CISAC's major priorities in the Africa region. A seminar organised by CISAC, jointly with the OIF (International Organisation of La Francophonie), exchanged best practices on advocacy for private copying, awareness-raising, and implementation of regimes at national and regional level. The event took place in Dakar November 17th-18th and was attended by regional government officials, society heads and legal experts.
Private copying remuneration collected for authors totalled €425 million in 2021, a rise of 4% on the previous year, according to CISAC's 2022 Global Collections Report. Remuneration in the Africa region rose 6.6% to €10.6 million, making up 14% of all creators' income via CISAC member societies.
To raise the pressure on policy makers, it was agreed to plan a private copying day in March 2023 in eight countries in the west Africa region. This is aimed at speeding up the implementation of a draft regional directive on private copying, which was proposed in 2019 by the WAEMU (West Africa Economic and Monetary Union) but is still to be enacted in law.  
Numerous governments have focused on actions to improve private copying collections in recent years. In the Africa region, four new countries have recently started collecting private copy remuneration (Malawi, Morocco, Tunisia, and Cabo Verde). 
CISAC has published a comprehensive overview of private copying regimes across the world in its Private Copying Global study, updated in 2020. The study is intended as an information tool for governments and policy makers, a reference for negotiations on fees and a source of data. It contains all the information that stakeholders need to know on private copying, from the legal framework to the practical implementation of private copying.
At the seminar was Mohamed Kabora aka Alif Naaba, Burkinabe singer-songwriter, WAEMU private copying ambassador and founder ''Rencontres Musicales Africaines'' (REMA).
©Eyes Digital Studio