Authors' rights in the digital era take centre stage at 2017 CISAC General Assembly in Lisbon
Summary
Visual artist Miquel Barceló unanimously elected as CISAC Vice President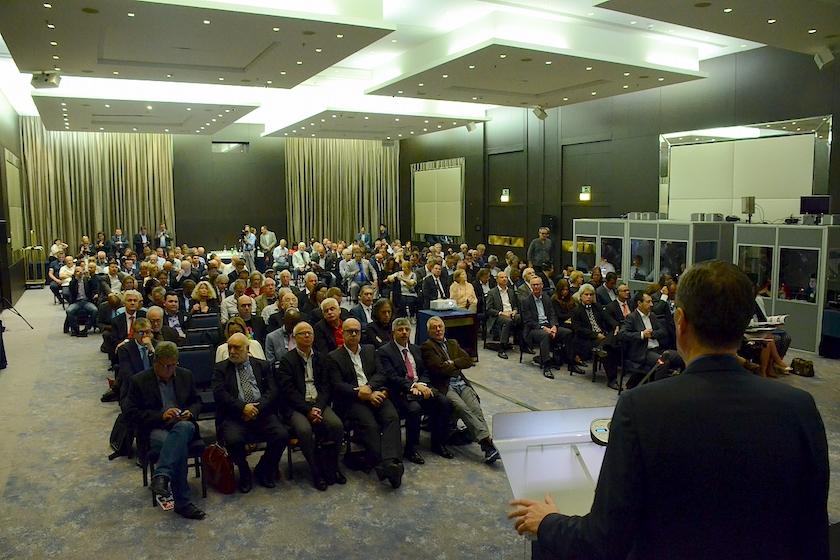 CISAC Chairperson and SOCAN CEO Eric Baptiste addresses delegates at the 2017 CISAC General Assembly. 
Photo ©: Inácio Ludgero
Over 200 creators and collective management society leaders from throughout the world convened in Lisbon on 8 June for the 2017 CISAC General Assembly. The annual meeting included reports and updates on the Confederation's activities over the past year on behalf of the 4 million creators represented by CISAC member societies.
The Assembly was opened by the President of host society SPAutores, José Jorge Letria. Acclaimed Portuguese author and a leading figure in contemporary Portuguese culture, Letria read a poem he wrote to mark the historic visit of CISAC to his city of Lisbon.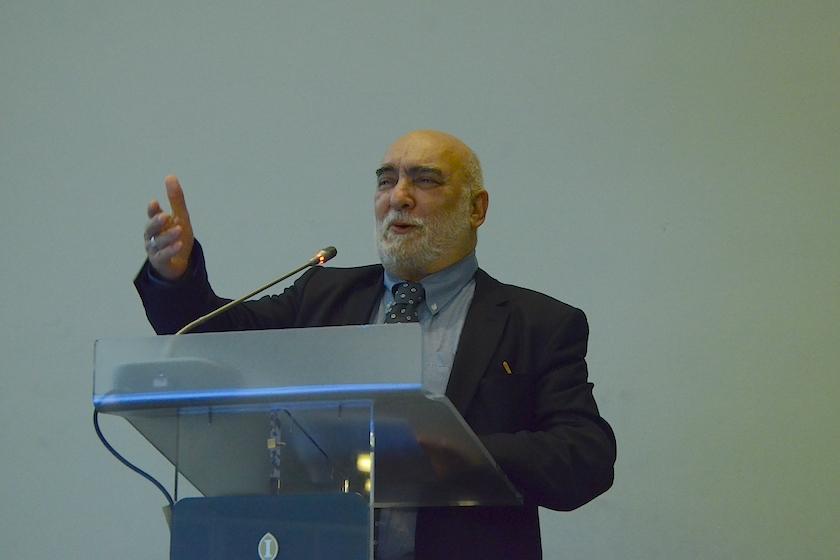 SPAutores President José Jorge Letria reads his poem dedicated to the historic CISAC visit to Lisbon.
Photo ©: Inácio Ludgero
SO WE DARE TO CREATE EVERYTHING AGAIN

 

A book is opened

As if it were a window facing the sea,

A song is heard at the serene party

of an ancient love,

one cries in front of a painting

which has wings of light

to touch our heart,

one remembers a film that has the age

of our indomitable joys,

one runs after the shadow of a free man

because it is known that, in such place fear will never overcome.

A stage is lightened up with the children's laughter

who do not get tired of using the word magic,

the rarest and most fantastic of all the words that we love,

of all the words we want to and know how to share.

 

A dream is opened on the right page

of everything it has to tell us.

It is a dream that opens the arms

to let the birds nested in the last paragraphs fly

It is a dream with its eyes 

resting on the commotion of waves and sounds,

it is a dream tailor made for our haste

to reach the last place that has no owner.

It is a slow and light dream.

like a fairy confidence

murmured in the silence of the nights

which become the great theater of this life.

It is a dream that asks: what would become of us

without the miracle of everything we write, we sing,

we paint and invent while the birds sleep

and the rivers kiss the cities in their haste to reach the sea?

It is a dream that embraces us as if to say:

with this wall of books, with this orchestra of laughter,

with this immense canvas of rebellious and ours colors

nobody will be able to tell their children

that there are closed doors between them and the happiness,

that there are walls of sadness and insult

between them and the circular joy of the animals in love.

There may come men laden with ashes,

women bent by the weight of ancestral fears,

come whips and bullets, barriers and shouts

that nothing will be stronger and freer than a poem,

that the chorus of a song, that the final kiss

of a film without price or time,

of a name equal to that of the gods and myths.

And then there will be a free and loose voice

in the midst of the works that fill our days

asking: who can be afraid of the world

in the middle of so many beautiful things

if there is nothing here that hurts or strikes us,

nothing that threatens us or tries to silence us?

Who dares to ask the watches

to have the children hurry

of wanting to reach where only dreams go?

Who dares to ask dreams

to forget who invented them?

Who dares to ask the art to move away

to let pass the armies of the

ambition without end, of punishment without forgiveness?

What would become of us, what would be the world

if this book were to close and all colors

evaded the stages, screens and canvas

and singing heart of the eternal songs?

We would become much poorer and sad

waiting for the light of a bird to enchant us,

single, full and always children,

and make us more confident and free

to dare to create all over again.

Because it is as such that it really worth it.

 

José Jorge Letria

April, 2017
An address from CISAC Board Chairperson and SOCAN CEO Eric Baptiste recalled the previous day's meeting with Lisbon Mayor Fernando Medina, who "told us that culture was not a line in the city's budget, but a key component of Lisbon's strategy to be one of the most competitive and innovative cities in the world. I can only wish there were more mayors like him!" 
Baptiste paid tribute to the late CISAC Vice President and  Senegalese sculptor Ousmane Sow, as well as the victims of the terrorist act at the Ariana Grande concert in Manchester. Speaking before a moment of silence, Eric Baptiste said, "The arts are a fundamental freedom and a liberating activity. Freedom of thought, being able to be whoever you are, to like what you want is what creativity and artistic activity are all about. Those who target concerts or museums like in Tunisia in 2015 know that they are targeting the very values represented by CISAC, its member societies and the millions of creators we represent and advocate for."
See the photo gallery.
CISAC Director General Gadi Oron gave an overview of an "exceptionally active year", which has been outlined in the newly-published CISAC 2017 Annual Report.  CISAC's advocacy work is focused on its three principal campaigns: the transfer of value, the Audiovisual Campaign for screenwriters and directors' inalienable right of remuneration, and the Visual Artists' Resale Right. Alongside GESAC and CIAM, CISAC has been increasing global visibility of the campaign with Europe in the spotlight.
Oron said "CISAC alone cannot swing this debate. It is our creators who give the campaign potency and resonance. That creator's voice has never been more important in the transfer of value discussion than now." Remarkable progress with The Audiovisual Campaign, led by Writers & Directors Worldwide, has been made first in Argentina, Chile and most recently Colombia. The Visual Artists' Resale Right campaign, led by CIAGP with support from ADAGP and EVA, has advanced at WIPO thanks to the International Conference on Artist's Resale Right.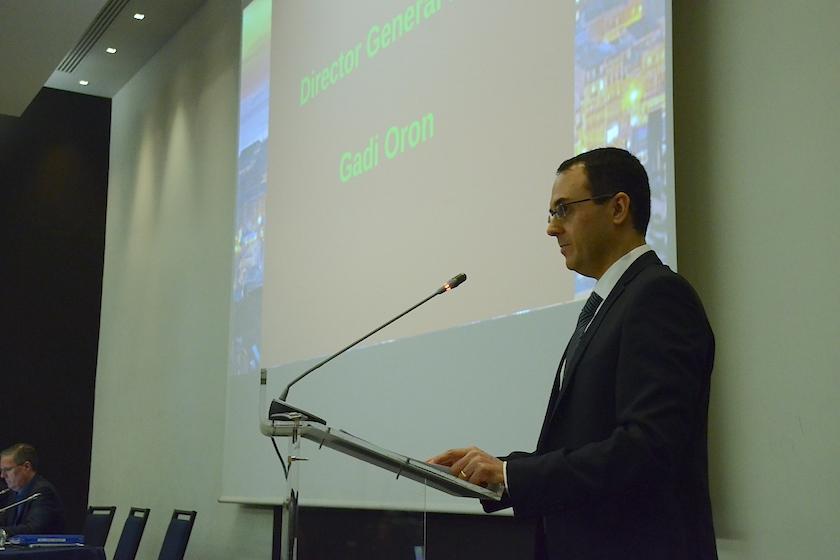 CISAC Director General Gadi Oron draws attention to the importance of creators' voices in international campaigns at the General Assembly.
Photo ©: Inácio Ludgero
Engagement with governments is also core to CISAC and achieving its mission for millions of creators. Oron drew attention to actions in China, notably a meeting with Chinese legislators and the World Creators Forum held in Beijing at the end of 2016. Also highlighted was a meeting in Croatia gathering state officials and society CEOs from across the Balkans – the first of its kind in the region. 
Building partnerships are also key, with new collaborative relationships extended in 2016-17 with ARIPO and WIPO. Public education activites have been stepped up, with CISAC University and the new online course "Exploring Copyright: History, Culture, Industry" launched.  CISAC is building up its status as a world authority in key areas of its work: with handling data, encouraging the highest levels of professionalism and good governance among societies. 
CISAC's work on Governance Reform and membership were outlined. Amendments to CISAC Statutes, Professional Rules & Binding Resolutions are aimed at improving transparency and facilitating compliance by members with CISAC obligations. These were voted and approved. An update was presented on Compliance Reviews, which are executed by CISAC to help boost best practices and compliance among member societies. The CISAC Secretariat updated attendees on the legal and policy priorities of the Confederation, technical committees as well as technology and information systems. The CISAC Regional Directors outlined their work programmes and priorities in Africa, Asia-Pacific, Europe, Latin America & the Caribbean.
On a note of celebration, societies were introduced to the visual artist and new CISAC Vice President Miquel Barceló. In a pre-recorded video, Miquel Barceló said he is honoured to join CISAC and represent the millions of artists around the world. Miquel stated, "I believe that in this big strange world, art is one of the things that can convince us a future is possible. It is the one thing that helps us to exist, and I think that an organisation which stands up for 4 million creators around the world needs all our support. One of the few things we cannot live without is creation."
A special roundtable discussion, with CISAC President Jean-Michel Jarre, and Presidents of CISAC's creators councils Hervé di Rosa, Yves Nilly and Lorenzo Ferrero, focused on CISAC and the Creators' Councils key campaigns. Themes included the difficulties faced by creators in the digital market, progress of the Fair Trade Music campaign, the renewed optimism of the resale right campaign, the spectacular success of the audiovisual campaign in Latin America contrasted by the apparent lack of support from MEPs in the previous day's vote on the EU Copyright Package by the IMCO Committee of the European Parliament; the urgent need to influence changes to the legislative framework. Jarre called for increased focus on lobbying activities and awareness raising.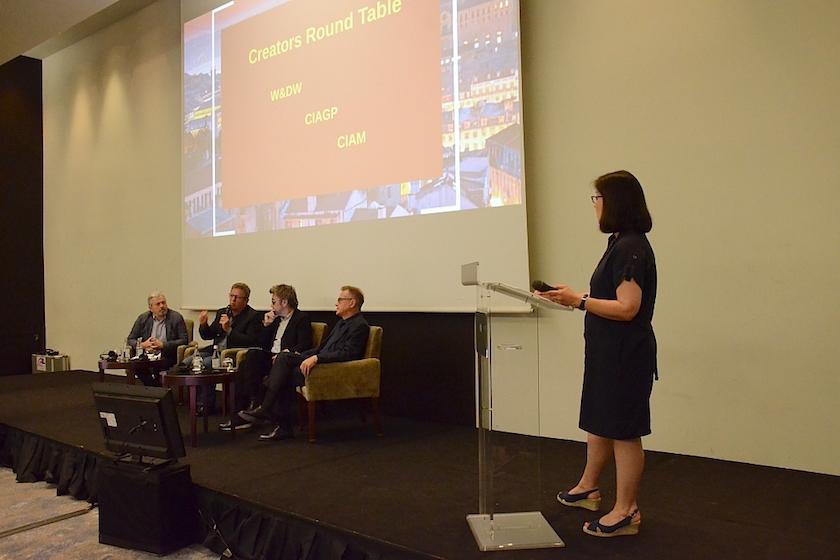 Creators round table including CIAGP President Hervé di Rosa, W&DW President Yves Nilly, CISAC President Jean-Michel Jarre and CIAM President Lorenzo Ferrero.
Photo ©: Inácio Ludgero
The General Assembly also saw a strong message of support from the Portuguese government. Author Fernando Pinto do Amaral, representing the Portuguese Minister of Culture Luís Filipe Castro Mendes, said his government is committed to "the implementation of a policy that defends, values and dignifies our authors and promotes their works in Portugal and abroad … a policy that promotes respect for creators, and values creation. Only with this policy can the future of culture be built in the way that we believe in." 
In a closing speech, acclaimed electronic musician and CISAC President Jean-Michel Jarre called for all policy makers to understand culture as the driving force behind the digital world.  Arriving from New York City and his recent tour, Jean-Michel Jarre thanked SPAutores for hosting the world of collective management in Lisbon, and praised its work to create a network of Lusophone societies in Africa.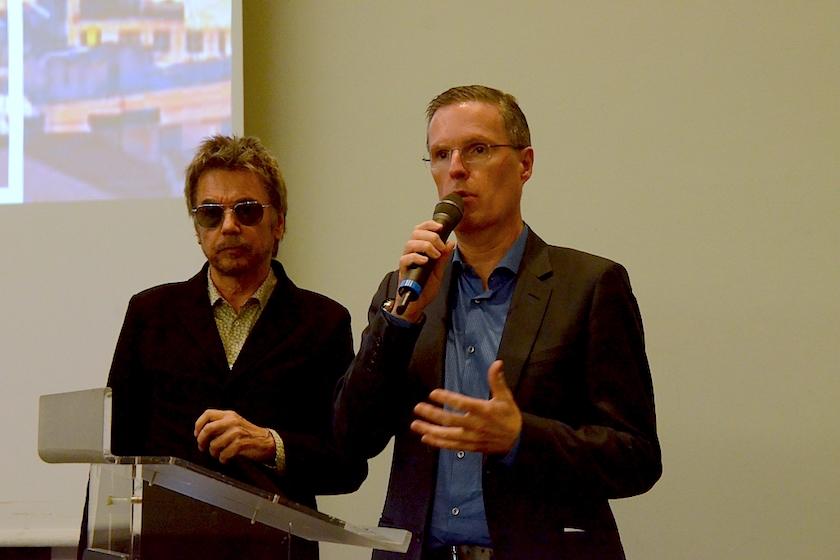 CISAC President Jean-Michel Jarre with CISAC Chairperson and SOCAN CEO Eric Baptiste. 
Photo ©: Inácio Ludgero
CISAC President Jean-Michel Jarre thanks "our friends" SPAutores for hosting the General Assembly.
Photo ©: Inácio Ludgero
CISAC's tireless efforts have helped put the issue of the transfer of value on the top of the creative agenda, Jarre said.  It is "the biggest issue of our age for creators. The biggest injustice in their working lives, and the biggest flaw in the creative economy." He added: "if we care about the future generations of creators, we must work to have more streams of revenues coming our way from the digital market."
Jean-Michel Jarre called for a universal unwaivable right to remuneration for audiovisual authors. Argentina, Chile and Colombia "have shown us the way" to this universal adoption. Finally, CISAC's President emphasised that visual artists have "started to crack the door at WIPO and build momentum for a worthy cause" for the international adoption of the resale right.
Jean-Michel Jarre issued a final rallying call to General Assembly Delegates:   The digital age has been good for creators,  bringing unprecedented opportunities, he said. But in reality we must recognize that the digital economy is the "cultural economy", fueled by creators. However, it is the massive revenue generators of the digital world, and not  creators, who are receiving the benefits or value share. He delivered the final message: "The digital revolution must be a creators' revolution. Let's make every policy-maker and decision-maker understand that."
The 2018 CISAC General Assembly will take place on June 2018 in Warsaw, Poland.