KOMCA press release: Best Practice for establishing a Transparent Distribution System: making payment details available anywhere, anytime, with exclusive application
Summary
KOMCA launches an official royalties tracking app that promotes transparency and benefits members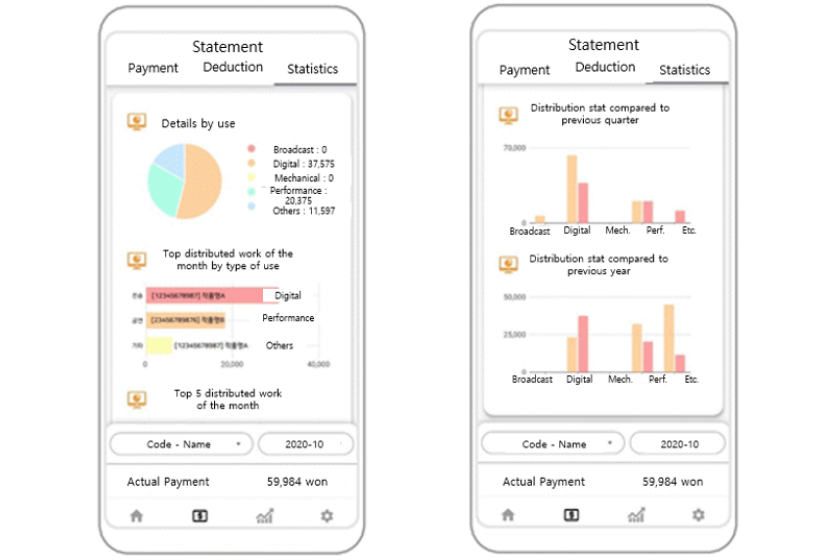 Photo ©:
KOMCA
The following press release is from member society KOMCA
---
Korea Music Copyright Association (KOMCA) has established itself as a leading organization in the domestic music industry, as much of its efforts on increasing collection through consistent improvement in management gained media coverage in recent years. A strong driving force behind the growth of KOMCA is a transparent copyright royalty distribution system with functions ranging from providing detailed data to analyzing royalties.
KOMCA's copyright royalty distribution system is responsible for the exact settlement and distribution of royalties to more than 37,000 members. Last month the association launched its official application for the said distribution system, presenting another achievement for the benefit of its members.
The core feature of the royalty distribution system app is the 'payment statement'. A payment statement is data that allows members to see a detailed breakdown of the royalties distributed each month, similar to a payroll statement for office workers. This function provides details and analysis, drawing attention among musicians and many others in the music industry.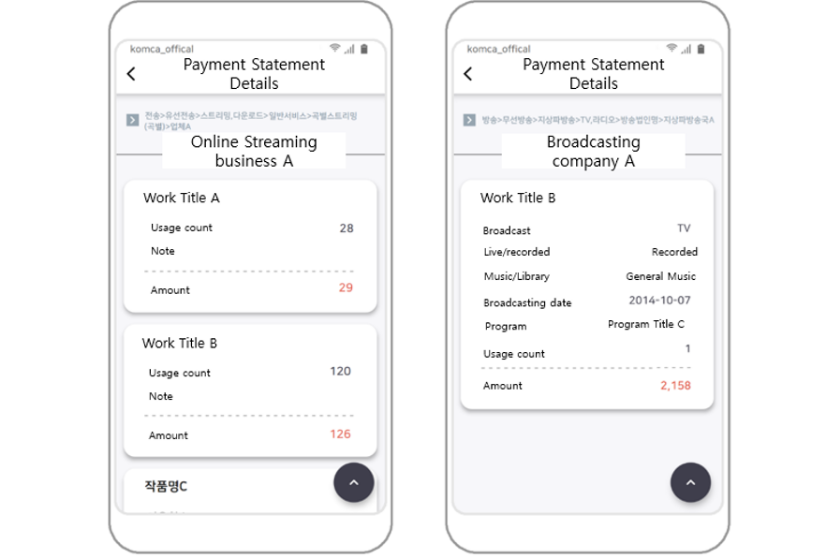 Payment statement for digital(left) and broadcasting(right). Photo ©: KOMCA
What's surprising is the transparency of the royalty distribution materials. Music creators, such as composers, can check the usage count and the amount generated by each licensee per use in detail, to the penny.
The app not only provides detailed data but is also equipped with an analysis function. It shows graphic trends for up to three years where users are able to compare and analyze the amount by period and use.
The Chairman of KOMCA, Mr. Hong Jin Young says "Disclosure of transparent distribution details is a service that the association must provide to musicians, and we have been working for years to establish this system. Many members are sending positive feedback since the application was launched to the fact that royalty details can be checked in the palm of their hands anytime, anywhere."
An official from KOMCA stated, "We will establish and operate the world's best system to support Korean musicians who move the heart of many globally."