Karl Vestli to become TONO's new CEO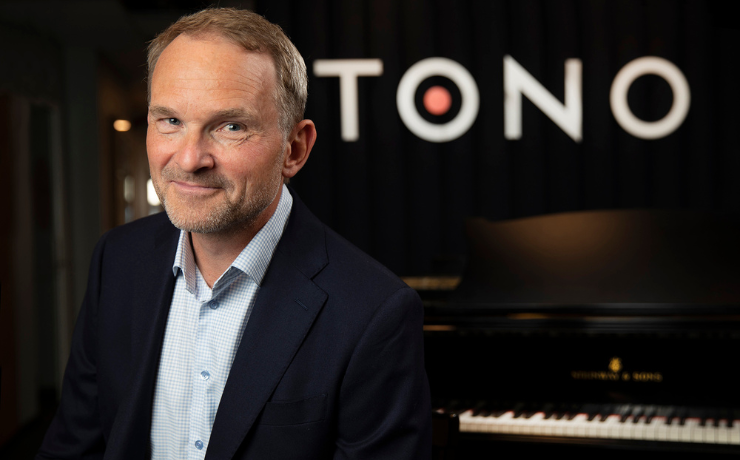 ©TONO
Karl Vestli (53) has been appointed as the new CEO of the Norwegian collective management organisation TONO. He will take over from Cato Strøm, who is retiring after 33 years in the position. Vestli is currently Director of Strategy at the Norwegian Directorate of eHealth and has extensive experience from major Norwegian media companies, including Schibsted, Aftenposten and Dagens Næringsliv. He will take up his position on 1 October.
"I am looking forward to embarking on the task I have been set by TONO's board of directors, which is to further develop the company in collaboration with the board, the employees and the organisation's members. I am also looking forward to working in a sector that is developing fast, and to seeing how TONO can exploit all the opportunities afforded by digitalisation and the advent of new technology. TONO is an established brand name in Norway, and has experienced a long period of strong and stable growth. That is not something that happens by itself. It is the product of a competent organisation and good management. A new CEO could not want a better starting point for further development and change," says Karl Vestli.
Extensive experience from the media industry  
Karl Vestli joins TONO from the Norwegian Directorate of eHealth, where he has served as Director of Strategy and, for a time, acting CEO. In addition, he has extensive experience from some of the largest media companies in Norway. He was Chief Consumer Operations Officer at Schibsted Norge and Circulation Director at both the daily newspaper Aftenposten and the business daily Dagens Næringsliv. Vestli has also previously worked at Accenture, where he managed digital development projects and project programmes in the areas of strategy, sales and marketing.
Jørgen Karlstrøm, who chairs TONO's board of directors, is certain that Karl Vestli is the right person to lead TONO into the years ahead:
"Vestli has led numerous development processes relating to digitalisation, business development and system and product development. He is described as a forward-thinking and unifying leader, with a pronounced ability to get things done and a strong track record of tangible results. He has impressed TONO's board throughout the recruitment process. We are unanimous in our view that Karl Vestli is the right person to further develop TONO to meet the demands that face us, both now and in the future," says Karlstrøm.
CEO retiring after 33 years in charge
Cato Strøm joined TONO in January 1983 as a legal advisor and was appointed CEO in 1989. In his first year as CEO, TONO generated revenues of NOK 68.1 million. In 2021, revenues had risen to NOK 843.9 million, the highest ever in the society's history. During Strøm's tenure, TONO's revenues have totalled approx. NOK 11 billion. He will continue to work with TONO for a period after 1 October.
"With fantastic colleagues at my side, it has been a joy and a privilege to see TONO grow into one of the most lucrative and cost-effective collective management societies in the world. A sought-after repertoire, effective legislation and sound strategic choices with respect to the organisation have brought us where we are today. Karl Vestli is joining TONO at an exciting time, when the company is facing a tougher competitive environment and increasing demands from members and customers. TONO has also stepped out into the world by directly licensing our repertoire for online use in a great many countries. I am confident that under Vestli's leadership, TONO will continue to progress and provide further benefits for Norwegian and international composers, lyricists and music publishers, who receive important revenues for the use of their music from TONO," says Strøm.
About TONO:
TONO was established in 1928 and is a non-profit collective management organisation, owned and governed by creators (composers and lyricists) and music publishers, on whose behalf TONO manages economic copyrights to their music. TONO licenses the public performance of copyrighted music on radio, TV and the internet, and in concerts and the cinema etc., for a fee. Each year, it transfers its financial profit from music that has been played in public to the music rights holders. TONO has more than 38,000 members in Norway, but it also represents millions of creators and music publishers from around the world. TONO provides music creators with a financial foundation that enables them to create new music, and simplifies the process of licencing copyright-protected music for music users. TONO had a turnover of NOK 843.9 million in 2021.
For more information:
Jørgen Karlstrøm, Chair of TONO, jorgen@komponist.no, mob: +47 957 25 736
Karl Vestli, new CEO of TONO from 1 October, kvestli@gmail.com, mob: +47 932 56 020
Cato Strøm, CEO of TONO until 1 October, cato.strom@tono.no, mob: +47 922 16 319
Willy Martinsen, Director of Communications at TONO, willy.martinsen@tono.no; mob: +47 909 65 254