Making copyright work for African creators beyond COVID-19
Summary
ResiliArt Debate organised by UNESCO and CISAC. September 30th, 2020 (14h-15h30, Paris time)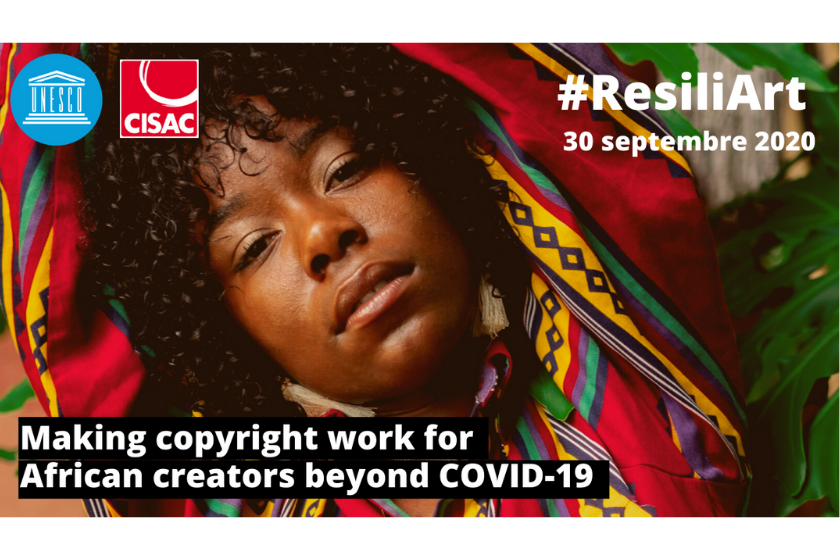 ©UNESCO
A virtual debate organised by UNESCO and CISAC, in partnership with the African Union Commission, will bring together creators, policy makers and the wider creative community to focus on strategies and solutions for the African creative sector in response to the COVID-19 crisis.
The link to participate in the event on Wednesday 30th September from 2pm (Paris time) is here.
This ResiliArt debate will be structured around the following key themes:
The impact of the COVID-19 pandemic on the copyright ecosystem in Africa
The respect of the copyright and the collections of royalties in the post-COVID-19 economic revival.
The transition and adaptation of States to the digital environment
Panelists
H.E. Abraão Vicente, Minister of Arts and Creative Industries of Cape Verde
Mr. Eino-John Max, President of the CISAC African Committee (Namibia)
Ms. Yvonne Chaka Chaka, singer-songwriter and Vice-President of CISAC (South Africa)
Ms. Kenny Saint Brown, music author and composer (Nigeria)
Mr Yvan Buravan, singer and RFI Musique winner 2018 (Rwanda)
Moderator: Ms. Nothando Migogo : Expert in copyright collective management and  Culture and Creative Industries (South Africa)
Opening remarks: Mr Björn Ulvaeus, singer and songwriter, President of CISAC and Ernesto Ottone, UNESCO Assistant Director-General for Culture
Closing remarks: H.E. Admiral Elfadil, Commissioner for Social Affairs of the African Union. 
For more information on the ResiliArt debate, see the concept note here
The ResiliArt movement was launched by UNESCO in partnership with CISAC to raise awareness on the impact of COVID-19 on the cultural and creative sector, mobilise the global creative community and help shape effective policies by governments worldwide.
This ResiliArt debate, the third of its kind organised in partnership with CISAC.