Japanese painter Kazuhiko Fukuoji and Spanish screenwriter and director Ángeles González-Sinde Reig elected as Vice-Presidents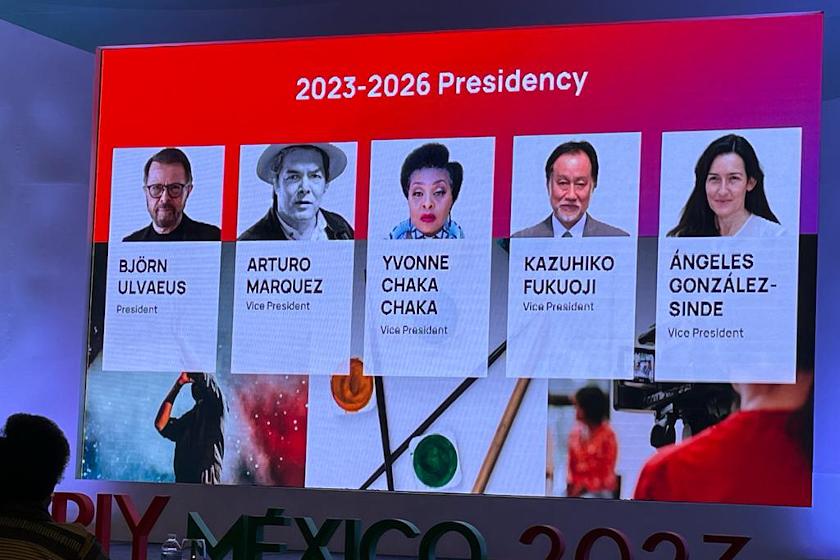 Paris, 1 June ­ Celebrated Japanese painter Kazuhiko Fukuoji and the renowned screenwriter, director, illustrator, and children's author Ángeles González-Sinde Reig are to become Vice-Presidents of CISAC – the International Confederation of Societies of Authors and Composers which protects the rights and represents the interests of creators worldwide.  
The two creators were elected by the CISAC General Assembly, held in Mexico City on 1 June. As Vice-Presidents, Fukuoji and González-Sinde Reig will work to advocate on behalf of the 5 million creators represented worldwide by CISAC member societies.
Fukuoji and González-Sinde Reig join the two current CISAC Vice-Presidents, whose three-year terms are being extended:  singer-songwriter and human rights campaigner Yvonne Chaka Chaka, and the eminent Mexican classical music composer Arturo Márquez.
Björn Ulvaeus, singer-songwriter and ABBA co-founder, has also been re-elected for a second term as President of CISAC.
CISAC Director General Gadi Oron welcomed the new Vice-Presidents while thanking the outgoing Vice-Presidents: "I would also like to thank the two outgoing Vice-Presidents, Chinese film director Jia Zhang-Keand Spanish visual artist Miquel Barceló, who served us for six years, speaking out for creators and opening many doors for us."
Bios
Kazuhiko Fukuoji is an internationally renowned Japanese Modern and Contemporary visual artist. He has been active within the CISAC community and has participated in lobbying for the visual artist's Resale Right, including in Japan and at WIPO. Fukuoji is a director for the Japan Art Academy and representative director and chairman of JASPAR.
Fukuoji has been awarded several honours, including the Nihon Bijutsuin Award, the Seison Maeda Award, the 1996 Institute Exhibition Minister's Award, the 1998 Institute Exhibition Prime Minister's Award, the 2001 Japan Art Academy Award, and the 2010 Art Academy member. Fukuoji received the Medal with Dark Blue Ribbon in 2012.
Ángeles González-Sinde Reig is a Spanish screenwriter, film director, illustrator, and children's author. González-Sinde Reig is a former student of Classical Philology from the Complutense University of Madrid and holds a master's degree in film screenwriting from the Autonomous University of Madrid. She studied cinematography at the American Film Institute in Los Angeles.
González-Sinde Reig holds screenwriting credits for numerous television series, including Truhanes and La casa de los líos, and 12 films. Her most awarded work was her directorial debut La suerte dormida, which starred Adriana Ozores. She is the President of the Royal Board of Trustees of the Museo Nacional Centro de Arte Reina Sofía and has overseen the presidency of the Academy of Arts and Cinematographic Sciences of Spain (AACCE) since 2006. From 2009 to 2011, she served as the Minister of Culture of Spain and was President of the Film Academy between 2006 and 2009.