Four thousand creators call for Russian aggression to stop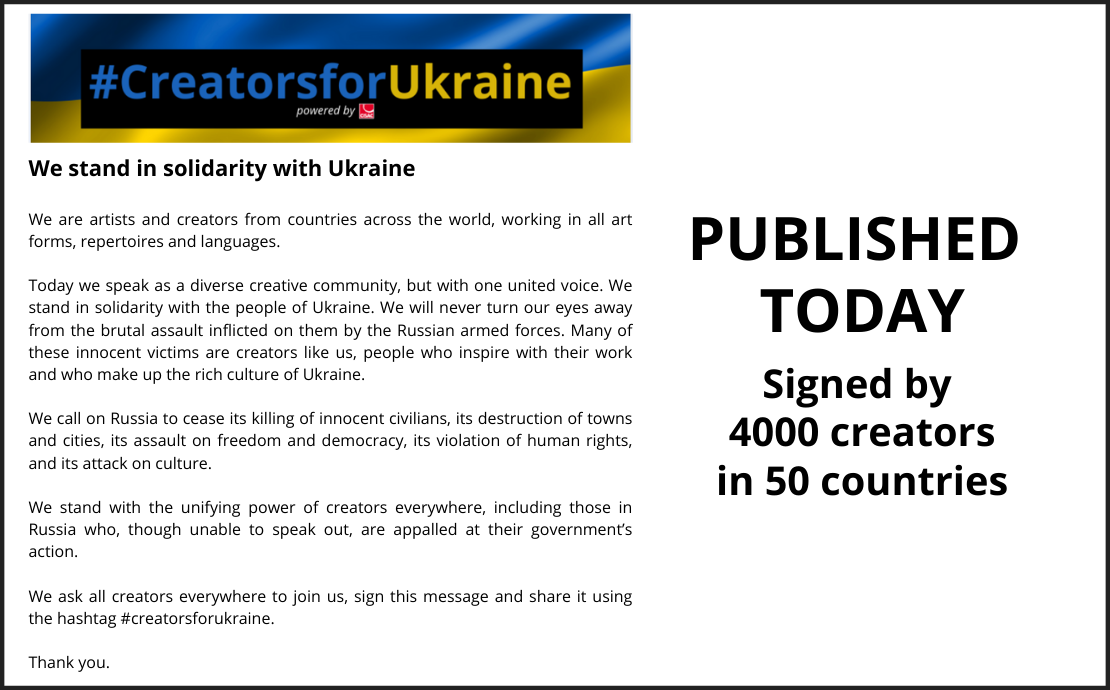 Paris – 29 April 2022 - Creators, artists, and creative industries representatives from 50 countries have signed a petition pledging solidarity with Ukraine's creators and calling for the end of the Russian invasion.
Four thousand signatures, from creators in Denmark, France, Hungary, Japan, Mexico, Spain, the US and many more countries have so far been collected for the open letter, which was delivered yesterday to Ukraine's Minister of Culture, Mr. Oleksandr Tkachenko. It will also be sent to other culture ministers internationally in the coming days.
The initiative is part of the "Creators for Ukraine" project, which has so far raised EUR1.2 million in financial support and is promoting the works of Ukraine creators on broadcast and streaming services.  
The petition, delivered by CISAC's President and ABBA co-founder, Björn Ulvaeus, Board Chair Marcelo Castello Branco, and Director-General, Gadi Oron, calls on Russia "to cease its killing of innocent civilians, its destruction of towns and cities, its assault on freedom and democracy, its violation of human rights, and its attack on culture".
The campaign is ongoing, and creators everywhere are invited to add their signatures to the open letter.
Valeriy Kharchyshyn, songwriter, frontman of Ukrainian band Друга Ріка - Druga Rika, Director General of Ukraine's music authors society NGO-UACRR, said:
"The Creators for Ukraine initiative demonstrates a remarkable power of unity and gives us confidence that we are not alone in our plight. We are part of the international authors' family and when we are together - we are able to find an understanding among the equal and free, and despite the bloody aggression of the northern neighbour, we remain motivated not by destruction but by a thirst for life, a desire to create and change this world for the better."