Good news for societies and creators in Turkey as CMOs achieve new collaboration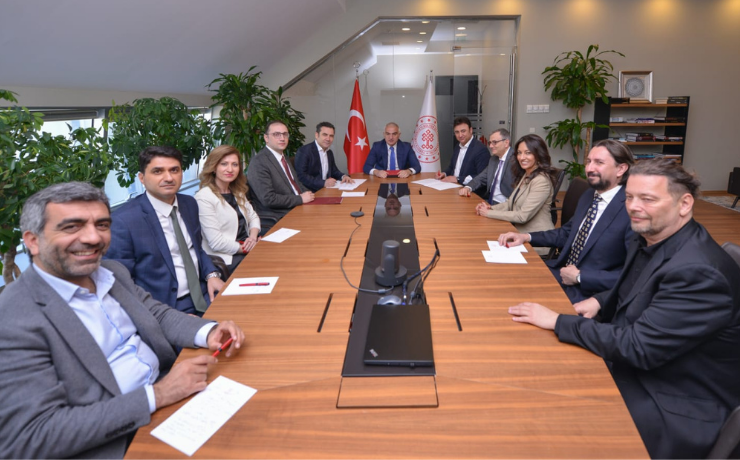 The senior management of MESAM and MSG joined with CISAC to meet with the Turkish Minister of Tourism and Culture on 14 April.
After years of difficulties in Turkey, the collective management system looks set to be boosted by a new agreement between the country's two CISAC member authors societies, MESAM and MSG.
With CISAC's support and assistance, these two collective management organisations (CMOs) have made substantial progress towards expanding their collaboration, a move that will improve efficiency in documentation, licensing and distributions, and lead to increased remuneration of creators.
In June 2021, MESAM and MSG were expelled for one year from CISAC by a vote of the General Assembly. The decision followed longstanding conflicts and breaches of the Confederation's professional rules that caused operational inefficiencies and low royalties for creators. The expulsion came with a set of CISAC recommendations for action by both societies.
With CISAC's help and the assistance of CISAC's local consultant (also a member of the local publishers' association), MESAM and MSG have now engaged in a comprehensive dialogue to a new collaboration and largely fulfilling to a great extent the CISAC recommendations. As a result of this progress, CISAC's Board or Directors will be asked to propose that the General Assembly re-admit the two CMOs to CISAC, subject to further monitoring of the protocol implementation.
The improved situation goes back to a joint mission by CISAC and international publishers (ICMP) in early 2020. The COVID-19 crisis showed the pressing need for collaboration to mitigate the negative effects of the pandemic. Following the election of MESAM's new Board in June 2021, the two societies formed an Executive Board that has been meeting regularly to work on long term solutions. In October 2021, the societies announced their joint Tariffs for 2022 in all licensing areas. In January 2022, MSG successfully migrated to the collective management software, locally developed by MESAM. In March 2022, the newly elected President and Board of MSG strongly supported the co-operation process.
Finally, the parties signed a new "Cooperation Protocol on Licensing, Documentation and Distribution Activities" on 28 March 2022. This covers all licensing, documentation and distribution areas and provides for the establishment of a Joint Technical Service Office for coordinating licensing, documentation and distribution activities. Also agreed is a data base and a detailed model for sharing royalty collections.
MESAM and MSG have also engaged Turkey's related rights CMOs in an initiative to provide a one-stop shop in the HORECA sector regarding the whole music sector.
On 14 April, both societies joined with CISAC's regional director for Europe in a meeting with the Turkish Minister of Tourism and Culture Mr. Mehmet Nuri Ersoy, and the Director of Copyright Directorate Mr. Ziya Taşkent (pictured). They called for the Ministry's support in improving collective management and copyright enforcement in Turkey. The Minister committed to proposing legislative changes facilitating the copyright licensing in the tourism sector if all societies in the music sector are able to set up an effective one-stop shop.