Future frontiers today in focus as CISAC President Jean-Michel Jarre addresses artificial intelligence at UNESCO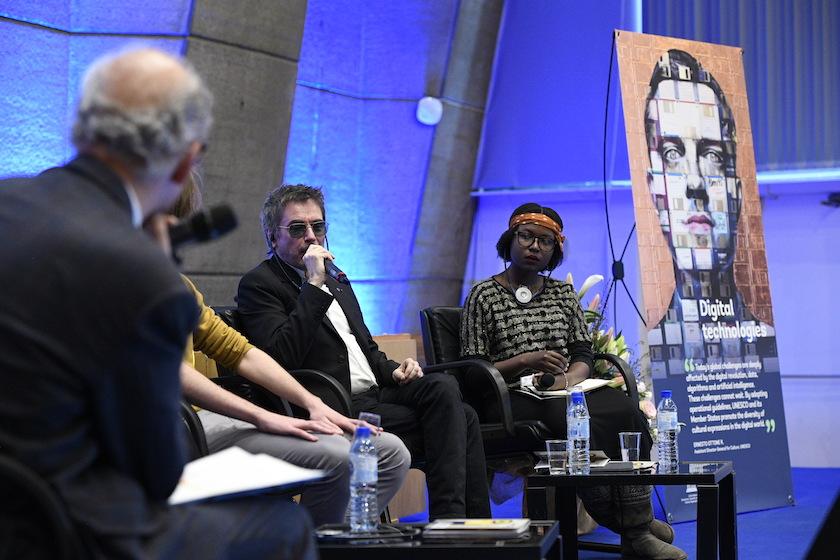 CISAC President and UNESCO Goodwill Ambassador Jean-Michel Jarre participates in a panel on artificial intelligence in the creative sector.
Photo ©: UNESCO
An October auction at Christie's shook the creative and cultural world. Portrait of Edmond Belamy, an artwork created by an artificial intelligence programme, was sold for $432,500. The event opened a new era of debate as to the advent of artificial intelligence and copyright in the world of creative works.
On December 13th, UNESCO held a panel discussion on the examining "Artificial intelligence: a new working environment for creators?" and its impact on authors' rights, who or what is a creator and what implications this has today and in the future. It was held during the 12th Intergovernmental Committee series of discussions Create | 2030 and moderated by UNESCO Chief of Communication George Pagagiannis. 
The committee is part of the 2005 Convention for the Protection and Promotion of the Diversity of Cultural Expressions, which seeks to encourage policies that protect and promote cultural diversity nationally and internationally. Artificial intelligence, as with other new technologies, poses new challenges to ensuring this diversity remains vibrant and preserved.
CISAC President and UNESCO Goodwill Ambassador Jean-Michel Jarre was invited to open the discussion and participate in the panel. He made it clear during the opening that the difference between intelligence and consciousness has to be distinguished. The technology is already capable of creating an entire piece of work. In ten years, it will be able to create music, pictorial and original works. However, he gave a positive perspective on artificial intelligence's place in the sector, noting that it would be "false to believe that the past was better, and the future will be worse" and that "our future isn't a dystopia". In regard to authors' rights, one could imagine it as a collaboration between a composer and software application.
The question regarding authors' rights was opened to the panel, which approached the subject of who or what owns copyright, among other questions. What would the case be if artificial intelligence algorithms are in the hands of multinationals? What would the effects be on emerging economies if these programmes were developed or dominated only by the major global economic powers? Finally, how can society ensure that human identity is not lost due to the advances of artificial intelligence?
During the panel, Jarre noted that artificial intelligence today, and its current state of development, requires a reflection from UNESCO as well as collective management regarding the above questions and a creator's own identity, and to identify an appropriate business model for artificial intelligence in the creative sector.