"Creative communities and governments need to act urgently to address the impact of Covid-19" a ResiliArt debate organised by UNESCO and CISAC heard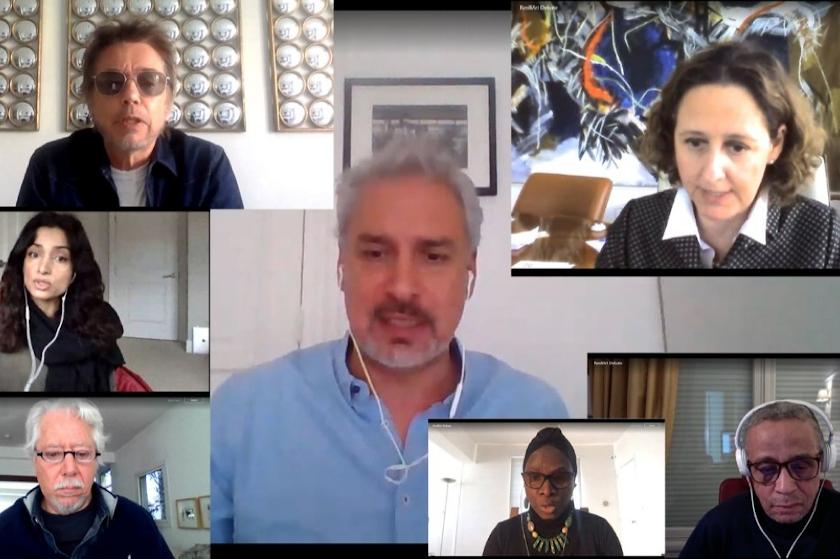 Photo ©: UNESCO
CISAC joined forces with UNESCO to hold an inaugural "ResiliArt" debate on April 15th to mobilise the creative community and governments in responding to the Covid-19 crisis.   A panel of renowned creators, led by CISAC President Jean-Michel Jarre, discussed the devastating impact on culture, the need for unity among creators and the urgency of government strategies in responding. 
See the recorded virtual meeting 
The online debate drew more than 1100 participants from around the world. The debate will now shift to the national level and creative communities are encouraged to join with their own Culture Ministries to extend this discussion in each country and territory.  
The debate, moderated by UNESCO's Assistant Director-General for Culture Ernesto Ottone, brought together the following speakers: 
Angélique Kidjo Singer-songwriter, CISAC Vice-President and UNICEF International Ambassador  
Deeyah Kahn Musician, documentary film director, UNESCO Goodwill Ambassador
Jean-Michel Jarre Composer and performer, CISAC President and UNESCO Goodwill Ambassador; Luis Puenzo   Film director, screenwriter, producer and President of INCAA
Nina Obuljen-Koržinek Minister of Culture (Croatia), Violinist 
Yasmina Khadra Author 
While the evidence of the devastation across the creative sector is clear, the overriding focus of the debate was positive:  culture and creators are resilient, and can help in the recovery from the Covid-19 crisis.  The works of creators – books, films, plays, visual arts, TV programmes - are helping people across the world endure confinement. The creative sector can be an engine of recovery and economic growth. But creators are extremely vulnerable to the crisis, their livelihoods are fragile and the sector urgently needs support.  Governments need to act with measures in the short and long term. 
Protection of the social and economic rights of artists are central in helping the creative sector recover from the pandemic.   Copyright should be strengthened to ensure that artists are paid fairly for their works, especially by digital platforms. Long term solutions must also be provided to ensure the safeguarding of sector in future crises.
Extending the debate worldwide 
Creative communities and policy makers are invited to begin your own ResiliArt movement in your country and organise debates with your cultural professionals. UNESCO has provided a debate and social media guide to help you launch your own movement.  Results of your debates can be shared with UNESCO to ensure that they are placed on the tables of government representatives.