CISAC-UNESCO "ResiliArt" and the road to recovery: "The creative sector can and will adapt to its new reality"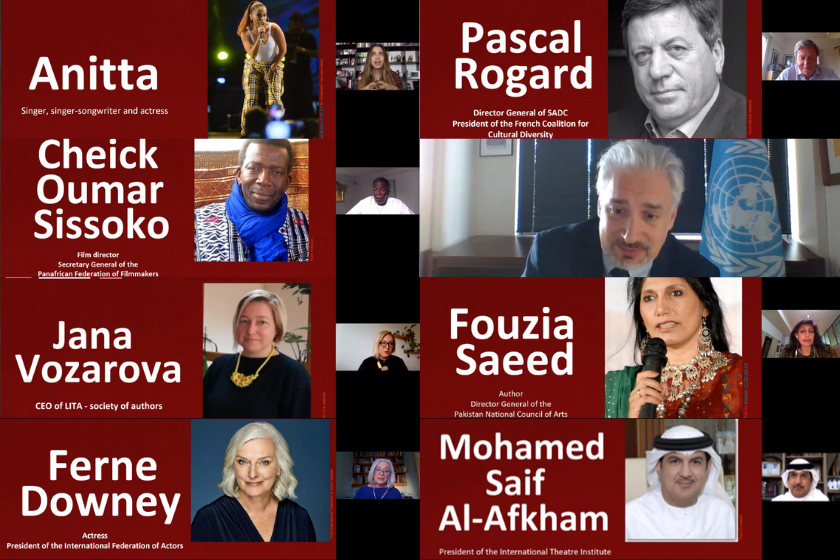 A second "ResiliArt" debate, organised by UNESCO in partnership with CISAC and IFCCD on May 14th, brought together a powerful international panel of creators and creative professionals from across the world.
Discussions centered on short and long term Covid-19 recovery measures for the cultural and creative sectors, and a firm call to action for governments and policymakers to place creators at the heart of their Covid-19 recovery strategies.
Link to view the debate (As of the time of writing) 
The debate was moderated by UNESCO's Assistant Director-General for Culture Ernesto Ottone. 
Panelists included: 
Pascal Rogard, Director General of the Society of Dramatic Authors and Composers (France)
Anitta, singer, songwriter and actress (Brazil)
Fouzia Saeed, Director General of the National Arts Council of Pakistan
Cheick Oumar Sissoko, Secretary General of the Pan-African Federation of Filmmakers
Mohamed Saif Al-Afkham, President of the International Theatre Institute (Arab States)
Ferne Downey, President of the International Federation of Actors
Jana Vozárová, Director General of LITA, (Audiovisual, dramatic, literary and AGP society, Slovakia)
Speakers shared the catastrophic blow the crisis has dealt to the creative sector. But they emphasised the inherent resilience of the sector and the opportunities of the present situation as well. With lockdowns starting to ease, creative businesses and professionals must and will adapt. Governments should protect the rights of all players in the sector, both big and small, and ensure they are fairly remunerated.
An essential step towards recovery is the recognition of creators' professional status to ensure they gain access to the labour and economic benefits enjoyed by others. The Covid-19 crisis has shown the vital importance of the digital environment. It has also highlighted the need to educate creators on their rights and on the monetisation of their works online. Creators must also be equipped with modern technological tools to facilitate their migration to the digital world and prepare them for unforeseeable crisis.
Protecting creators rights 
Quality engagement between cultural institutions and governments must also be a priority. This will help create an environment that promotes better understanding of the issues the sector faces, and aid governments in devising targeted solutions. Directives and treaties such as the EU Directive on Copyright in the Digital Single Market and the Beijing Treaty on Audiovisual Performances adopted to protect the rights of creators, especially on digital platforms, must be implemented at the national level.
The UNESCO-CISAC "ResiliArt" debate continues
Creative communities and policy makers are invited to begin their own ResiliArt movement in their countries and organise debates with cultural professionals. Over 80 debates have begun in different countries. UNESCO has provided a debate and social media guide to help you launch your own movement.  Results of your debates can be shared with UNESCO to ensure that they are placed on the tables of government representatives. 
QUOTES
Anitta on the responsibility of governments
"Governments must create a section in their administration that carters exclusively to the protection of the entertainment industry (culture).  Entertainment is important for the society's wellbeing and Governments must help creators monetise their works. They must ask themselves how they can help creators, especially the emerging and vulnerable ones, to ensure they do not struggle financially. Platforms must also be given to those who have the voice and understand the rights of artists"
Fouzia Saeed on the economic role of culture
"Education is an institution that rebuilds society. The educational sector must present culture not just as a leisure activity, but as an industry. We must raise the status of culture from 'mere entertainment' to that of a 'service providing sector with an important function in the society. New institutions must be created to educate creators on their rights and teach them innovative ways of distributing and monetising their works to meet demands of such crisis. Governments must formalise such institutions."
Pascal Rogard 
"The confinement has shown a tremendous need for culture, there have never been so many connections and films watched. Many cultural societies continue maintaining a close connection with their audience, in particular via live performance through digital platforms. Unfortunately, most of these companies forgot about copyright and authors' rights. So, I'm calling on our Minister of Culture to urge that artists need to be remunerated when their works are exploited and should have a remuneration that corresponds to the exploitation of their works."
Ferne Downey 
"Artists prove again and again their fundamental value to the society. We want to make a living so let the status of the artists live in the laws of your home country." 
Mohamed Saif Al-Afkham
"Artists are creative and can think outside the box. This is the right time to think outside the box and find ways to adapt to the new reality. We need to come up with new guidelines for humanity and culture must be a part of it. Creators are the soul of their countries and Governments must make the welfare of creators their priority"
"We have to find new creative ways of bringing people together. We can create online activities that people can pay to watch. This can help artists around the world. There is a possibility of creating a fund from these types of activities. There will be big sponsors notably the big digital companies who through their platforms, have benefitted hugely from the lockdown. They must give back by sponsoring such activities."
Cheick Oumar Sissoko on the African Cultural Fund
"Culture is the foundation of humanity and Ministers of Culture must see that they place culture at the heart of the government initiatives. The African Cultural Fund created in 2018 is open to all creators in Africa. The fund made available for the year 2020 will be used to aid creators who have suffered the catastrophic impact of the Covid-19 crisis. Governments and Institutions are encouraged to support this fund"
Jana Vozarova on the importance of collective management of rights
"Collective Management Organisations are means for the authors and performers to receive small amounts of remunerations which will continuously add up to fair earnings for them. CMOs assure that creators are not stripped of their income and that users of their works do not take advantage of their stronger bargaining position. This is because, Collective Management Organisations collect for lots authors and performers and therefore level up bargaining positions. This is the right time to go through Collective Management Organisations."