APMA ExCo Meeting and International Creators Seminar Held in Bangkok, Thailand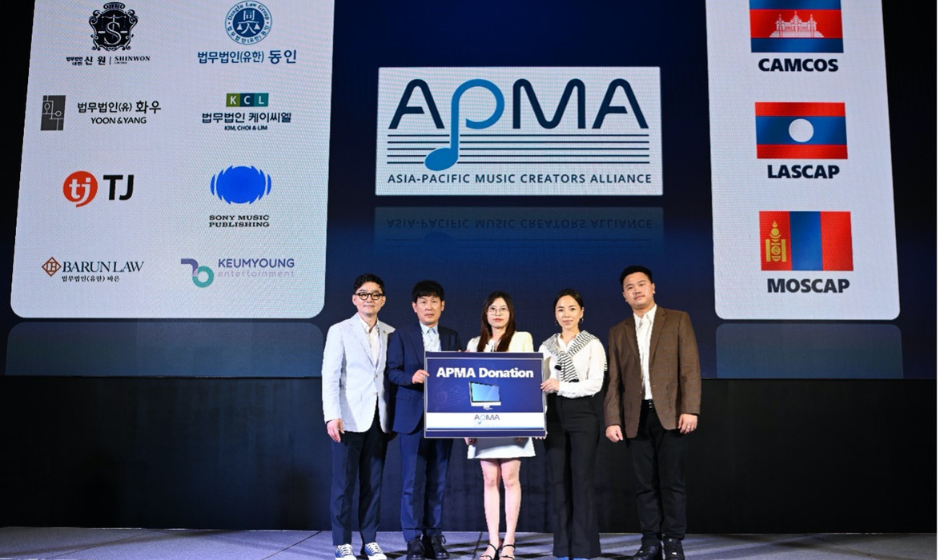 APMA Donation Awarded to CAMCOS, LASCAP, and MOSCAP
The Asia-Pacific Music Creators Alliance (APMA) donation project was first initiated by APMA Chairman Mr. Myung Sun Yoon, with the aim of developing and revitalizing the copyright market in the Asia-Pacific region. Since 2022, APMA has been collecting donations from various entities from the Korean music industry in order to improve the working environment of underdeveloped organizations and to raise copyright awareness in developing countries.
During the APMA Executive Committee (ExCo) meeting on 11th May 2023, three societies, namely CAMCOS in Cambodia, LASCAP in Laos, and MOSCAP in Mongolia, were selected as beneficiaries of the donation of USD 5,000 each by the APMA members for the purchase of computers and other electronic devices. The APMA Donation Ceremony took place during the International Music Creators Seminar, which was held on 12th May 2023.
APMA ExCo Meeting Held on May 11th, 2023
The agendas for the APMA ExCo meeting also included topics such as 'streaming market study,' 'APMA & APC support and training for CMOs,' and more.
Although income from streaming services is taking up a large proportion of the copyright revenues in the Asia-Pacific region, the value of the musical works has not been fairly reflected from the current income level.  When digital streaming service has become the major source of consumption of music around the world, APMA would like to conduct a study to examine the reasons why the income split amongst stakeholders in the streaming market in the Asia-Pacific region should be adjusted so that fair renumeration for the authors of the musical works can be achieved.
Other important regional topics such as the introduction of private copying levy regime and education campaign about copyright buyout were discussed during the APMA ExCo meeting and amongst them, the role of artificial intelligence in music development was raised with most-heated debate. The next APMA ExCo meeting and APMA General Assembly are expected to be held in late November 2023 in India.
International Music Creators Seminar Held on May 12th, 2023
The International Music Creators Seminar, hosted by MCT in collaboration with CISAC and APMA, was held on May 12th, 2023, in Bangkok, Thailand. The seminar aimed to facilitate discussions and exchange of ideas on the topics of copyright buyout and the value of music in the digital era. Over 300 participants, including music creators, music industry professionals, Thai government officials, and academics, interested individuals attended the event.