Creators' global royalty collections hit record €9.2 billion
Summary
Digital income growth accelerates to 51% as CISAC member author societies drive efficiencies worldwide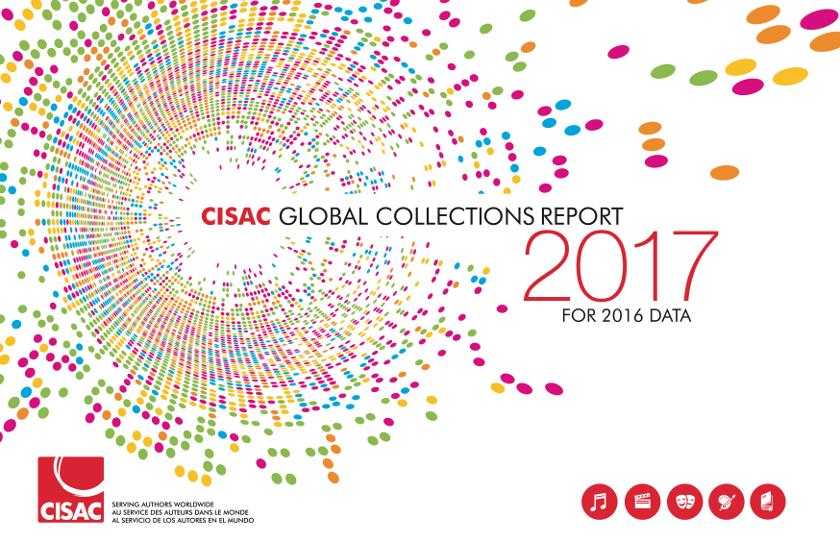 Paris, France, 15 November 2017 – Global royalty collections for creators have hit a new record high of €9.2 billion annually, up 6% on the previous year according to new figures published by the International Confederation of Societies of Authors and Composers (CISAC) today.
In the music sector, songwriters, music composers and publishers saw collections grow by 6.8% to €8.0 billion, helped by a 52% increase in digital revenues. Collections for audiovisual and literature works also increased, while there were small declines in collections for visual arts and drama.
Revenues from digital uses of all repertoires have nearly tripled since 2012, and grew 51.4% in 2016 to just under €1 billion, the sharpest growth rate in the last five years. These are largely driven by streaming subscription services. At €948 million digital still accounts for only 10.4% of global income, however, with revenues held back in particular by poor returns from UGC video streaming platforms.
TV and radio broadcast take the largest collections share with 42.8% of global income, followed by live and background uses. In the music sector in Europe, live and background collections have overtaken TV and radio for the first time, reflecting the health of the live business and pressure on rates from broadcasters.
The numbers are released today in the CISAC Global Collections Report, collating and analysing 2016 data received from member authors societies in 123 territories.
Introducing the 2017 Report, CISAC Director General Gadi Oron says:
"This year's report shows the system of collective management of creators' rights is robust, successful and ready for more growth.  The big traditional revenue streams, led by broadcast and live performance, remain stable and strong. Digital royalties continue to surge and in some markets already overtake other forms of income. The figures we're releasing today reflect our societies' relentless effort to be more efficient and innovative, and drive income growth."
Jean-Michel Jarre, CISAC President and electronic music pioneer, writes: 
"This is a vast sector of cultural and economic activity, worth an amazing nine billion euros worldwide.  Despite its growth, however, collections are nowhere near the level they should be.  Large industries that use creative content are driving down the value of our works.  A simple illustration of this is the "transfer of value" in the digital market where platforms such as YouTube are paying mere crumbs to authors. There is no greater priority that we ask from governments today than a solution to the transfer of value." 
CISAC's global network of 239 societies licences content and collects royalties on behalf of 4 million creators for the use of works on TV, radio, background, live, digital, private copying and other uses.