Croatia seminar promotes CMO-government cooperation, best practices and economic growth
Summary
CISAC and HDS-ZAMP partner at collective management seminar targeting seven countries from Southeastern Europe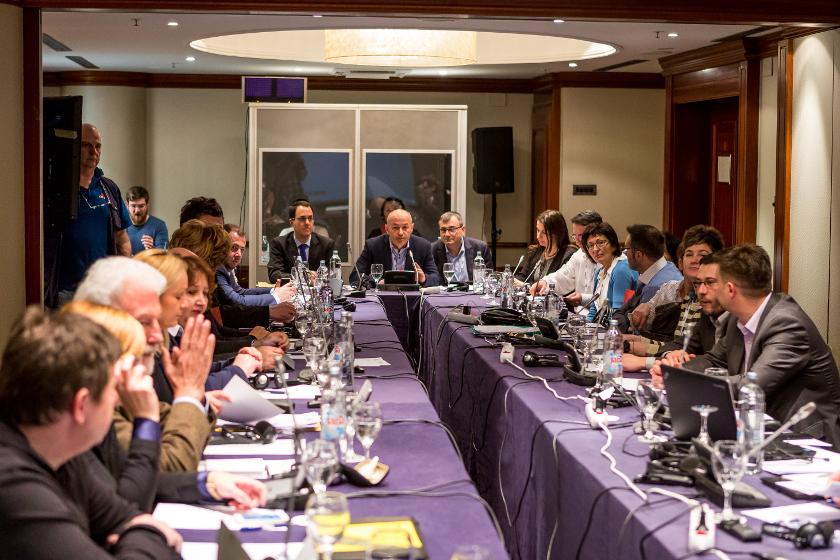 L-R: CISAC Director General Gadi Oron, HDS-ZAMP Director General Nenad Marčec and CISAC Regional Director for Europe Mitko Chatalbashev address attendees in Croatia.
Photo ©: Julien Duval
Cooperation with government is key to the effective functioning of collective management. This is helped by improved  understanding of the importance of collective management to domestic and international economies. The EY "Cultural Times" study commissioned by CISAC is an example, highlighting the immense economic contribution creators are making to economic growth and jobs. 
On 23 March in Zagreb, Croatia, CISAC and HDS-ZAMP co-organised the first regional gathering dedicated to these priorities. Society and intellectual property heads, ministries officials and academia discussed key issues in collective management and copyright policy-making. The event, bringing together 38 participants from Albania, Bosnia and Herzegovina, Croatia, Macedonia, Montenegro, Serbia and Slovenia, was supported by the State Intellectual Property Office of the Republic of Croatia.
See the photo gallery.
Cooperation between the participating countries is key in particular to the effective working of the EU's Digital Single Market. Croatian Minister of Culture Nina Obuljen-Koržinek told the seminar: "During the course of European discussion on Digital Single Market, we have to take great care of creators' interests from all artistic domains as well as fair remuneration for the use of their works online."
Photo ©: Julien Duval
CISAC Director General Gadi Oron outlined the confederation's global priorities and projects. Discussions also focused on the vital importance of "one-stop shops" and state regulation in Central and Eastern Europe and on the technology behind collective management. Expertise and best practices were shared by CISAC Regional Director for Europe Mitko Chatalbashev and CISAC Director of Business Standards and Rules Sylvain Piat.
HDS-ZAMP Director General Nenad Marčec said that transparent collaboration between CMOs and government supervisory bodies helps economic growth and stronger contributions from the creative sectors. "We will continue to advocate for creators' rights because they are engines of the Croatian economy. Young people employed by CCIs are pushing forward cultural as well as economic prosperity."
The national Croatian television station HRT covered the seminar in this news report.